If anyone is interested in saving on shipping, I'll be at MosquitoCon in Wayne NJ on April 1st and can bring the kits with me.
List updated on March 29, 2023
Lots of new items being listed here.
I'm on a bit of an Artillery kick lately and I am seeking the following kits:
Royal Model: 105mm ammo and crate
Verlinden: 105mm howitzer ammo #93 (preferably the older boxing/castings)
AFV Club, M110*
AFV Club LVTH-6*
AFV Club M109A6 Paladin
AFV Club or Kinetic Doher*
AFV Club Propellant Containers #35299
AFV Club 155mm shells M1122 & M454
AFV Club 155mm PKG shells
AFV Club 1555mm M982 Excalibur shells
AFV Club M54 "Eve of Destruction"*
Panda M109A7 Paladin*
Hobby Fan M56 Scorpion*
Hobby Fan Aussie M113 crew*
Hobby Fan IDF M113 crew Yom Kippur*
I'm willing to throw in a little extra for the items with the * above.
So here is what I'm offering:
(not pictured)
AFV Club M54 with M113 guntruck, $90
AFV Club M102 Howitzer $20
Italeri M1097 cargo Hummer with Verlinden detail set #616, $35
MasterBox #3577 US Artillery Crew $12
Master Box #35157 US and German Paratroops (soldiers only, no female figs.) $10
Russians, $10
Miniart US Tankers, $10
Kirin Recoilless Crew, $30
Kirin Full Metal Jacket, $40
Jaguar, $20
Hobby Fan, gun truck crew, $25
Warriors, M113 crew (1 full, 1 bust), $10
First Legion, US Soldier Vietnam $9
SOL Vietnam, $
Hobby Fan, US Mechanized Infantry Vietnam, 4 figures, no box, $25
Verlinden US Artillery Crew, $8
Verlinden German Artillery Crew, $8
Verlinden IDF Tanker 1970s, $10
Belgo Vietnam Soldiers, $10 (2 metal figure and resin bodybag, recreate the famous photo)
Legend, Three Fighting Men, $10 (Vietnam Memorial)—-SOLD—-
Coree, $5 (ONLY the figure with the M16 and the base)
Custom Dioramics Outhouse, $10
Mec Models Vietnamese Graves, $20—SOLD—-
Kirin Sampan, $45
Plus Model, Field washing station, $15
Unknown, shower, $5
Meng, resin concrete walls, $10
Asuka US Jerry Cans, $15
Tank M60 with Tripod, $3
Tank Workshop munitions boxes, $5
AFV Club Ammo cans, boxed, $10
Tamiya Modern Accessory Set, $9 (have several
Tamiya Modern Accessory Set, $9 bagged with box art.
Verlinden Fuel Drums, $10 bagged with box art.—-SOLD—-
Archer 105mm crate stencils, $30 for all.
AFV Club Ammo Cans, bagged, $9 (have several)
Firestorm, Vietnam Centurion Mine exploder, $
Verlinden Ammo Trailers, $25 each pending
Legend Bradley ERA, no box, $10
AFV Club, M41 mantlet and tracks, $5
Verlinden IDF M113 fuel cells, two sets in the box, $8
Green Onion Tent, (there are two in the box) $25 each or both for $40.—-SOLD—-
Aoshima turret truck 1/32, $20
Verlinden Soviet Dry transfers, $5
Accurate Armour, BMP wheels, $5
Tamiya C-Rations, $4
Vietnam decals, $4
Real Model C-Rations, $4
Verlinden Vietnam markings, $10
Verlinden Military boxes, $4
Verlinden Flags (dry transfers), $4
TAKE IT ALL FOR $25
Dragon IDF Jeep, $22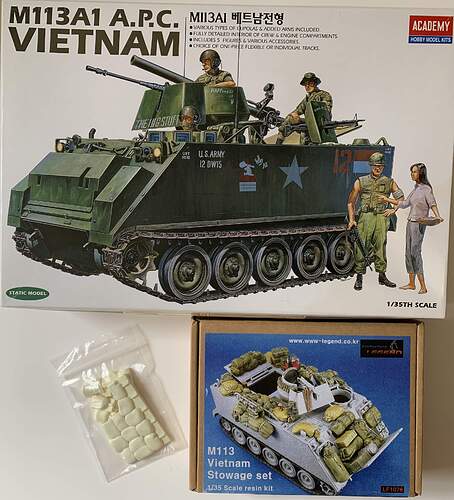 M113 with Legend Stowage and sandbag floor, $35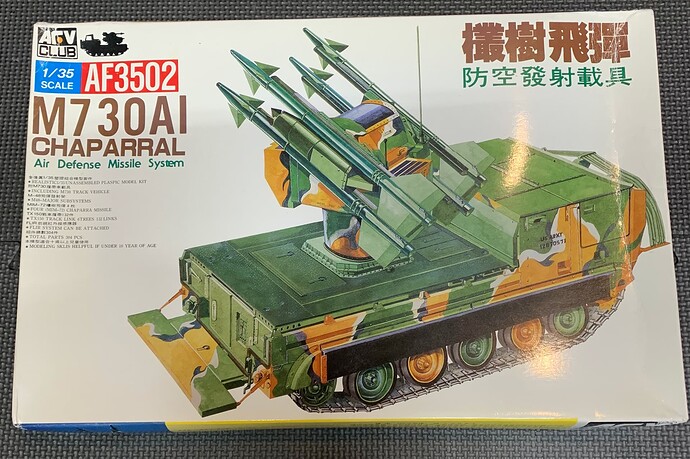 M730A1 Chaparral, $40
!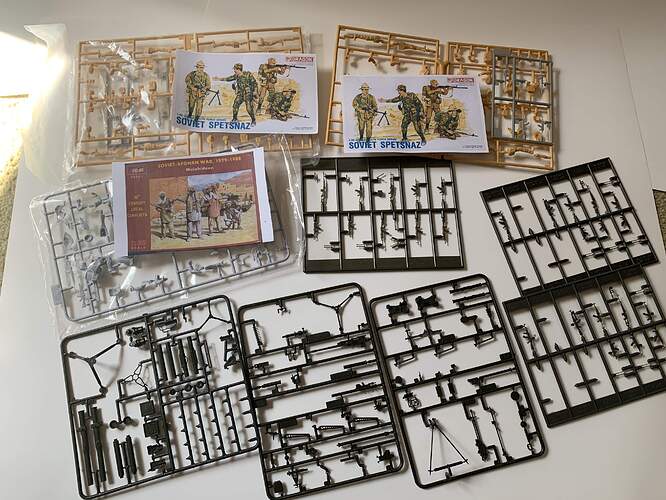 Soviet/Afghanistan Lot, $15

Dragon, Delta Force Somalia, two for $10 (one sealed, one open w/loose leg)
Dragon, LAPD SWAT (sealed), $15
Dragon, MP5s (sealed), $10
—TAKE IT ALL FOR $20—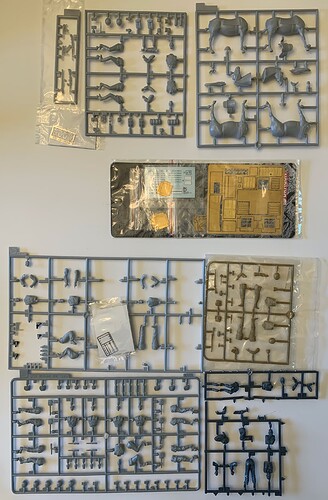 Dragon, #6046 Florian Geyer, $9
Dragon, PE parts for Kubelwagen Workshop, $8
Miscellaneous German Figure lot, Dragon, ICM, Tamiya, $10
—take all the the German stuff for $20—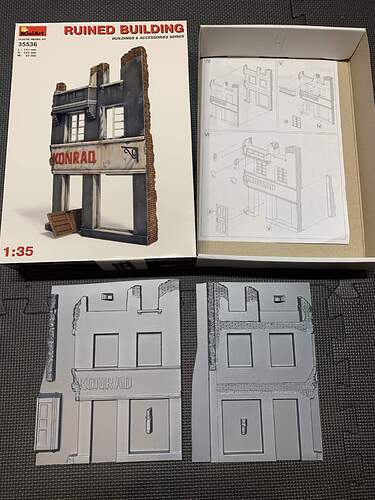 Miniart Building only, $5 (box now has a hole on the front)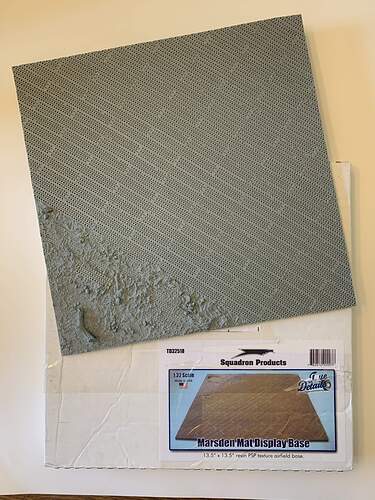 1/32 PSP Base, $35——
!

1/48 Tamiya German Lot, $25
Trumpeter Intruder and Corsair, 1/350, $7 for both
Not Pictured:
BMP-2E combo, resin interior, Armour Track Models tracks and resin wheels, $50
(prior owner had tacked turret half together, can be undone, will toss in some Dragon Figures and some other stuff).
ET Models Leclerc PE set, $12
Dragon M16 set, $10
Tamiya PBR, $35 (opened bags)
Thanks for looking!