"I'll be back" a popular catchphrase from Arnold Schwarzenegger and his character "John Matrix from the film Commando was the first 3D printed figure i have completed.
I have now purchased "oola" from Return of the Jedi. ool was a slave girl who has a tragic life back story; she was tricked by Jabba's hence man Bid Fortuna into becoming a Jabba's dancing slave girl and eventually ended up being a bight sized brunch for the Rancor monster living in Jabba's basement when she displeased him…enter her replacement princess leia.
One other notable thing is that oola was played by british actress Femi Taylor, who had a wardrobe malfunction in one scene that was shot inside Jabba's palace in the original film, i am not sure if that section of film is still in the revamped version.
Oola is a character that has never seen much love in the way of figures and models etc but thanks to the explosion in 3D models, there are at least 2 version of this character now available, and i decided to buy both and have them printed up for me as i have no idea about the mystical science/magic that is involved in 3D printing.
and this is the figure i bought and have started working on:
incidentally for those of you who are interested there is a a video on youtube of someone building this exact figure and some of the issues they have whilst trying to 3D print the figure here.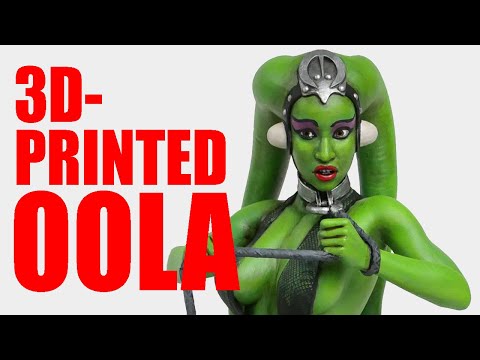 thus far i have managed to work on the base which is not in this picture and although the figure is clothed i have decided to take a picture from the rear of the figure in case her dancing outfit causes anyone to become offended.