I have gotten this crazy idea of doing a batch of the fun, little and obiquitous Stuarts in its various versions. Not that I haven't enough projects to finish first, no… But I just need to build, instead of paint and weather.
So I started gathering… An M3 here, an M5A1 there… and why not just toss in an M8 into the mix as well.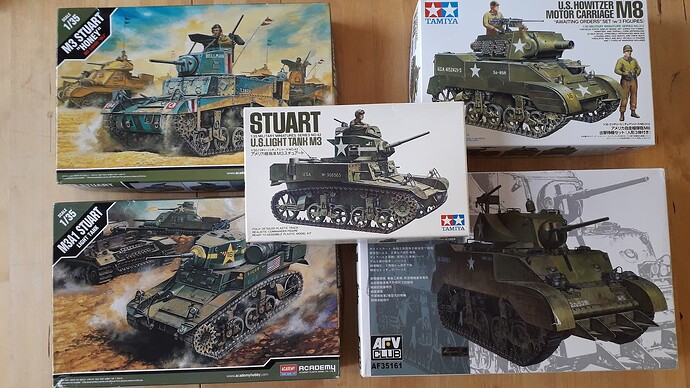 For some I already have a version in mind, like the US M3A1. That will be the PTO along with an M32B2. AFV Club's M5A1 might just end up as a "Black Panther", belonging to the 761st Tank battalion, since I think those troops do not get the credit they deserve for their services.
Tamiya's M3… I am leaning toward an AnZac-version in Guinnea whereas the M8 will be a 113th Cav. as an honour to those that liberated my homesoil.
Or should I use the "Honey" as an AnZac-tank and the M3 as a Russian lendlease? But the "Honey" has the cauntercamouflage…
And what about Tamiya's M5A1? Commonwealth recce-tank? Or Czech FlaK/PaK-version? I have the necessary guns in the stash… plus the flaK-version has a whacky camouflagepattern too.
Ahh!! Choices, choices!!!