I gave already a hint in my previous blog: It will be a big bird.
But it is no plane, it is the italian corvette RN CICOGNA (Stork) in 1:350 from Niko. She was one of a class of 59 similar corvettes and distinguished her by sinking the sub HMS THUNDERBOLT (ex THETIS)
I will this time do no corrections as i do not have so much references and the kit is quite comprehensive. Its my first resin ship and I just want to make her looking nice. She has a very attractive paint scheme with 2 grays, green underwater color and the red and white identification stripes on the foc'sle.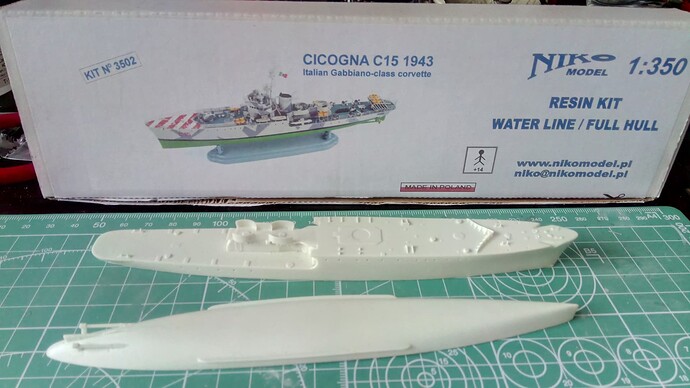 The casting is quite nice with separate underwatership and fits ok. The only bubbles i saw will be invisible after joining the hull halves.
Its not a lot of parts, but the hull will require some sanding as the underwater hull was abt 1 mm too wide.
I glued the halves together with 2k glue too give it maximum strength.
Next will be sanding and sanding and sanding.
I hope you find this little bird as interesting as me. Its a nice contrast to a Flower class
Cheers
Tom