Hi All!
I was going through some of my old builds this morning and came across the following little story I'd originally posted back in 2015. I thought I'd share it again…
I had completed Revell's ancient 1/540 scale USS Midway back in 2008. The original kit came with 26 aircraft including sixteen F9F-6 Cougars (eleven with folded wings), six F4U Corsairs, two A-1 Skyraiders, and a pair of Piaseki HUP-2 Retriever helicopters. Some of the planes were missing from the second hand kit I was building, but I wasn't aware of any aftermarket planes in this odd scale and I only had the one kit, so I completed the aircraft I had, put them aboard – and that was it.
Or so I thought. Last month, Jeff Z., a modeler I didn't know who had seen my build of the ship, out of the blue sent me sixteen additional Cougars and two HUP-2 helos from his own Midway kit that he didn't intend to use. No charge, no agenda, just a thoughtful guy helping out a fellow modeler.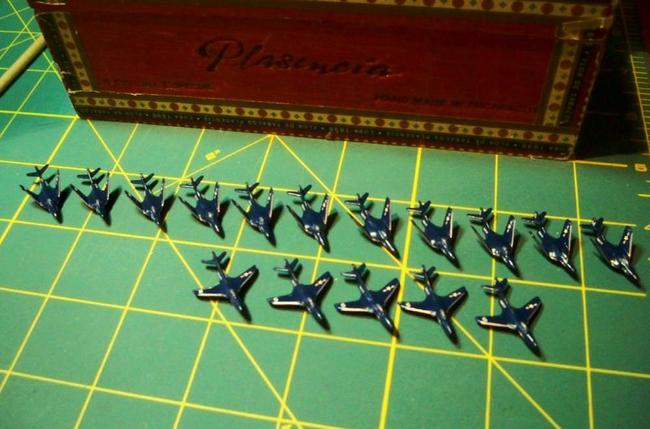 I finished cleaning up, painting, and decaling the extra planes and put them aboard – and my Midway I thought was completed years ago will now have an upgraded airgroup to take to sea!
This sort of gesture is a great reminder of why I enjoy our little online community so much. Thanks again, Jeff!