(The following is a repost from 2018 on Armorama posted here as a test topic)
*Flames of War A7V 1/100 build – Started May 7, 2018 for the Armoured Vehicles of the Great War Campaign on Armorama

I'm in for a late start with a pair of Imperial German Army A7V tanks in 1/100 scale!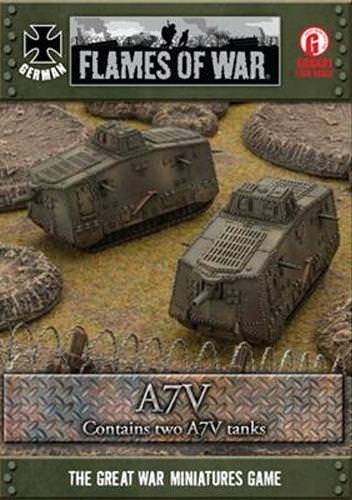 With the campaign end date of June 1 I have only three weeks, but these are small builds…These little resin and metal wargaming pieces are basic but attractive, and they assemble rapidly.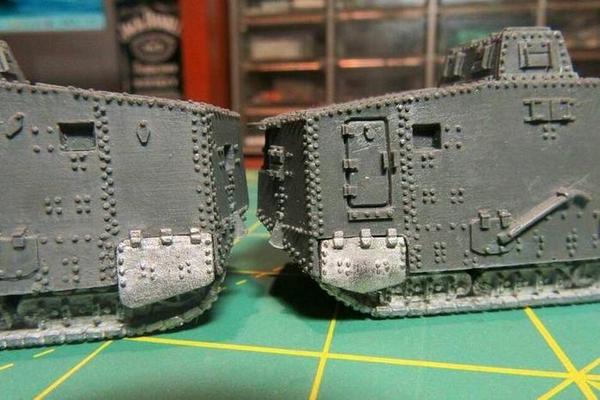 The set even offers the choice of two types of mudguards.
The 57mm guns are a little chunky, but with some careful cleanup, they'll do.
I'm no fan of white metal kit parts, but they do help keep costs down for limited run kits such as these.
The tiny monsters are assembled and ready for paint!
I think for variety I'll do one in Feldgrau and one in three-color camouflage.
Both tanks got an initial preshading of Tamiya Japanese Navy Green (XF-11) around the bolt lines and shadow areas.
After that, the Feldgrau tank received a coat of Tamiya Field Grey (XF-65) in cloud pattern over Tamiya J.N. Green, and the three color camouflage pattern on the other vehicle was applied using Tamiya J.N. Green (XF-11), Tamiya Dark Yellow (XF-60), and Tamiya Hull Red (XF-9).
Although not really visible in these pictures, the preshading did leave just a bit of depth underneath the colors. The A7V machine guns were painted Tamiya Rubber Black (XF-85) and the exhausts Tamiya Flat Brown (XF-10). With these details painted and the vehicles glossed with Future, the A7Vs are ready for their markings.
The Flames of War A7V Sturmpanzerwagen kits came with decals including Maltese cross national insignia, Abteilung numbers, nicknames, and other markings.
I used the kit national markings, and the red "I" on the camouflaged tank came from 1/100 scale Battlefront Miniatures Afrika Corps sheet (GE942-2).
The A7Vs also received their nicknames; the Feldgrau tank was called "Nixe" (mermaid), the camouflaged vehicle, "Schnuck".
The little monsters were finished off with a quick wash with Grumbacher Raw Umber artists oil to deepen recesses and a coating of "flat Future" – Future acrylic gloss mixed with Tamiya Flat Base – for a matte finish.
With that, A7V Sturmpanzerwagens "Nixe" and "Schnuck" were ready to unleash their fury upon an unsuspecting Europe!