That will look nice … And make that part of the build a easier …
Just a quick update to prove I am still working away on this. Nearly ready for paint. A few small fit issues but nothing major. Main and tail rotors are not fixed, and the winglets aren't either for ease of painting. The canopy long piece is slightly warped but should glue into place ok. I tried to bend it after using hot water to heat it but too scared to break it!
Oh, and the def models gun set came together very nicely.
Cheers, Jim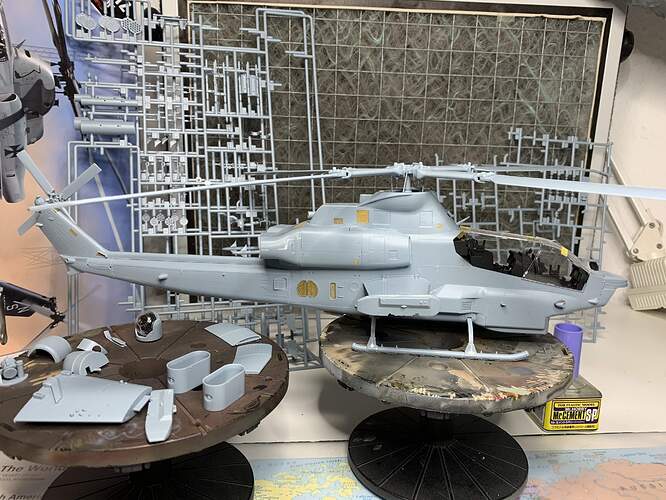 Very nice Jim, it is certainly a big old bird. Will look cool when the paints on and I'm glad it's going together well for you. You've done it proud this far, well done mate.
Is it just me or would that main rotor foul the tail rotor pretty easily?
It's probably just the angle, even if they come close they are synchronized to perfection to avoid fouling.
Yeah Lee, as John says it's just the angle, although there isn't much in it.
This is as close as they get without synchronisation;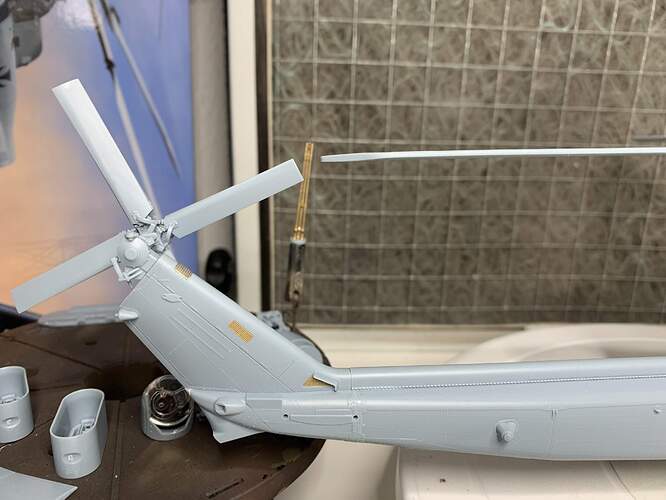 It is coming along very nicely. Great job so far.
Thanks Gino.
That's everything clean and mounted up ready for paint. Just need to mask the cockpit and get painting. I think I will use primer on this as there will be a lot of handling, just need to decide whether it will be white, grey or black… A lot more work than I anticipated but when isn't that the case!
Oh, and the avionics bay ended up with 12 pence in it, two pennies and five two pence. Around 40 grams I think, a bit more than the 3 grams the instructions suggest! Centre of balance is just front of rotor so sits nicely.
Cheers, Jim.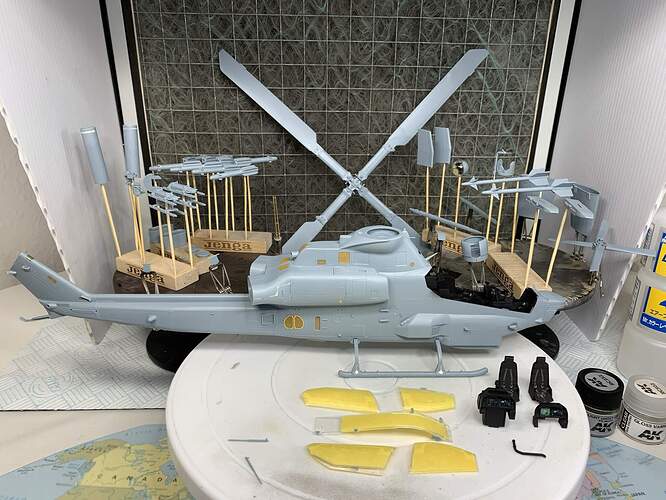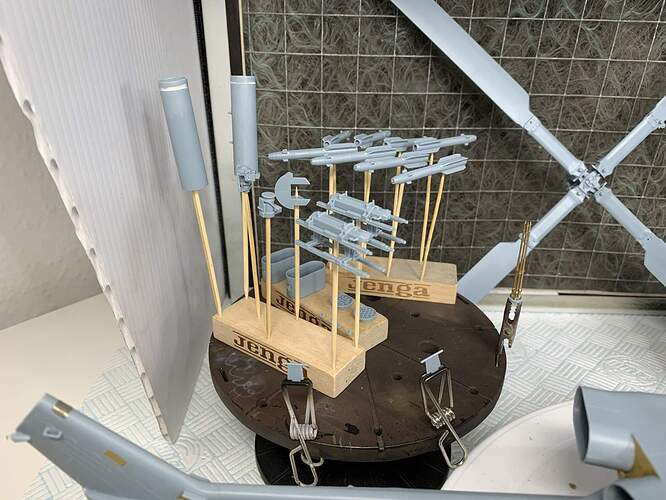 Outstanding work there Jim
looks super Jim, well done mate.
This is coming together nicely Jim.
Thanks Richard @metalhead85, John @Johnnych01 and Joseph @mustang1989.
Decided to go with grey for the primer as the one I choose is nice and light. My first time using Mr Finishing Surfacer 1500 grey. I thinned it 50:50 with Mr Color Leveling Thinner and sprayed at 15psi. Mist coats followed by a more solid wet coat. This stuff settles really nice and leaves a nice smooth finish and hasn't obscured any of the details. I'm very happy with it. The parts that didn't get a coat of grey will be getting the same stuff in black flavour.
Thanks for following along, Jim.
Decided to start the job I usually leave to the end and ends up dragging the build out. Weapons mostly painted.
Hellfire missiles in black primer then gloss, with their launcher in olive drab. Rocket launcher tubes in olive green, with ends in alclad aluminium. Both greens highlighted with yellow green, all tamiya, added to base colour, then gloss coat for decals. Led lights and camera make the greens look far too bright, the second pic with cannon is more representative.
Cannon base coated with mr Surfacer 1500 black then alclad steel. The DEF models replacement looks rather nice I think.
And finally, the abrams is getting a bit crusty for a paint mule for this so an old Revell 1/24th lancer body shell is primed and ready for experimentation!
Cheers, Jim.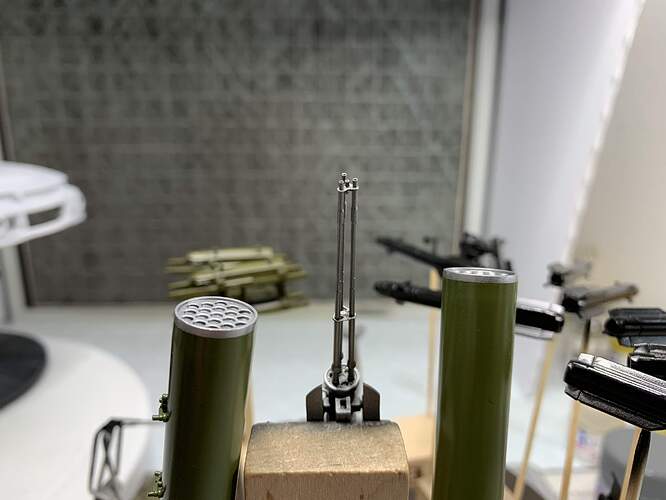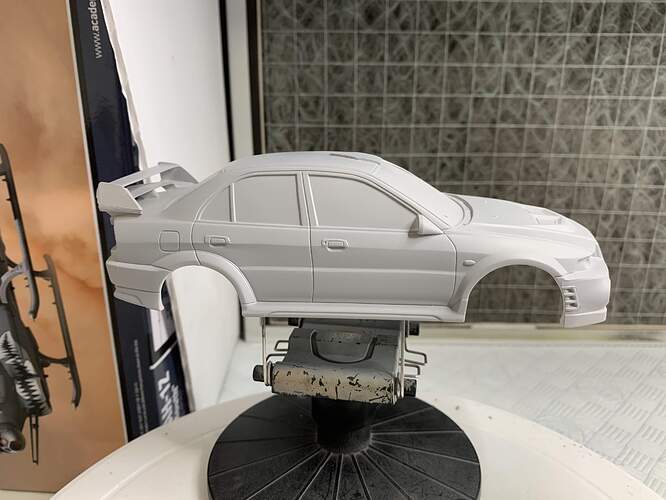 The weapons look great, along with the rest of it. Keep up the good work.
Thanks Gino.
Sorry been a wee while since last update. Finally got away for a few days up to the Cairngorms on the Mar Lodge Estate. So good to be in the wide open spaces again!
Weapons all marked up, lots and lots of decals. Some pin washes to do then a satin coat and onto the main painting.
I have experimented with the light ghost grey, which the AIM main colour is, and it is nearly exactly the same as the mr Surfacer primer. Decided black is too dark for preshade, and extra dark sea grey is better but still maybe too dark. Gonna have a shot with blue-grey and see how that goes…
J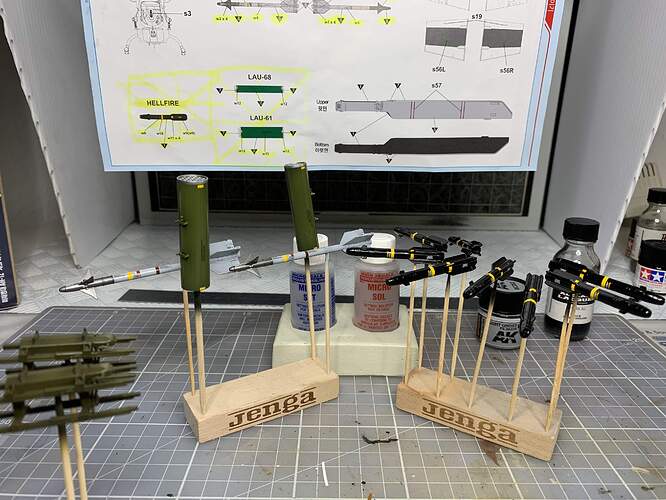 The killing tools look very nice Jim, It certainly would pack a very mean punch… I do like the Hellfires… I was lucky enough to watch 8 Apaches lose off 2 salvos for a Div fire power demo in Egypt before we let go our Swingfires…ahhhh heaven lol
Thanks John, that sounds amazing, lucky you indeed.
Funnily enough I was up at Mar Lodge a couple of years ago on an archaeological dig and we were buzzed two days in a row by a couple of Apaches. And they were pretty low, it's scary to think of being in those sights and that 30mm cannon tracking you!
Sketchy pre-shading on. Not as neat as I would like but should break up the finish just enough, I hope!
I used AK real color extra dark sea grey. The winglet in the middle and the second picture has the AK real color light ghost grey on already.
Just need to find time for the main colour session next.
Thanks for looking in, J.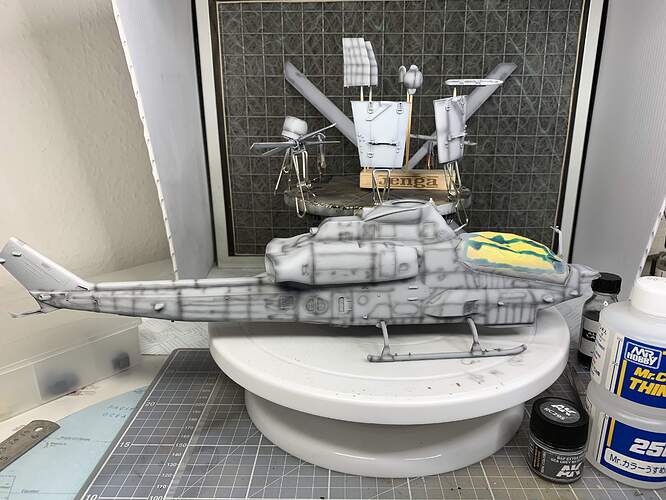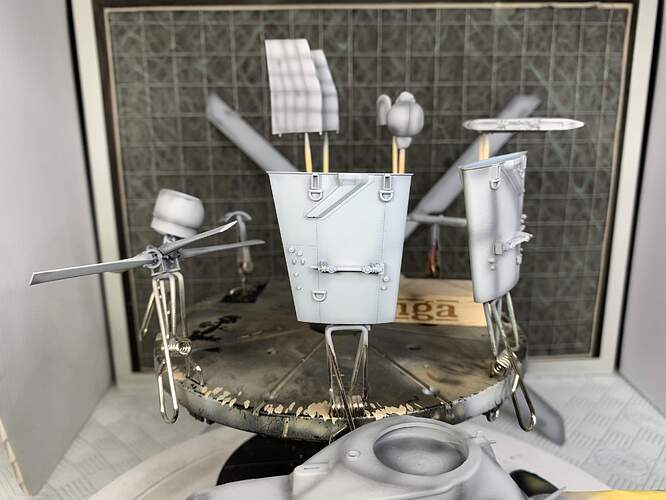 Bizarrely I quite like it with the pre shading … Looks good
That …is lookin' good. Really good!!