More of my work. Hope you enjoy it.
This diorama started out because:
The Mailman delivered Alpine's wonderful pair of US Paratroopers.
I had the Bronco Rangefinder – a fascinating and unusual kit, and needed to include it in some diorama, somehow.
I wanted to try my hand at making a concrete bunker, as in the Normandy beaches.
Of course, It grew into much more, in my desire to tell a story, and frame the scene.
The Story:
A couple of days after the Normandy invasion a few US paratroopers escort a batch of German prisoners to the beach for evacuation. A pair pause atop am abandoned bunker to admire the flotilla, out to sea, while a third, riding a captured motorcycle, watches the bedraggled prisoners.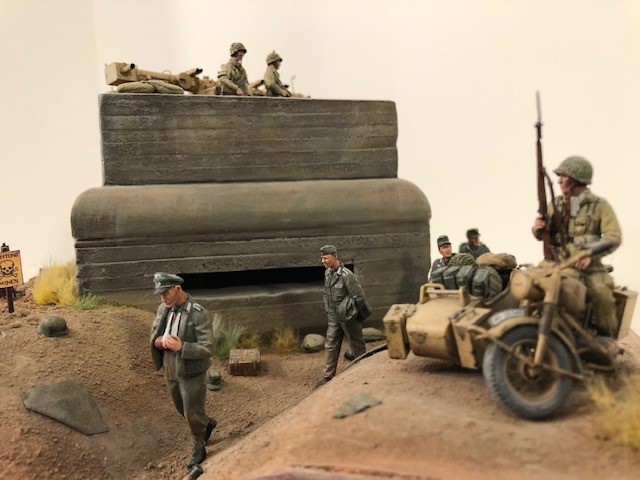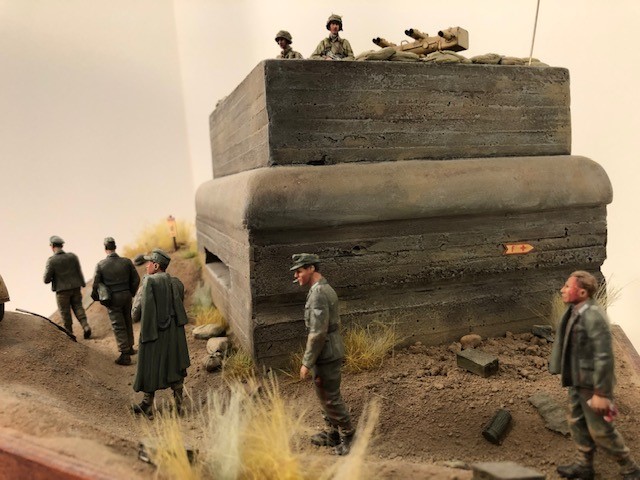 I cast the bunker, in plaster, in multiple sections. It took a couple of attempts to get it right, but I think it works. I used 'casting plaster' as it produces a harder product than Plaster of Paris. I built the forms out of wood and lined their insides with popsicle sticks to form the mold lines of the concrete (if that makes sense). A light coating of Vaseline (petroleum jelly) prevented the plaster from sticking to the forms.
The pair atop the bunker, from Alpine are beautiful figures. Some of Alpine's best (IMHO).
As always, if you have any questions, I'll be happy to answer them…
Details:
Alpine US Airborne troopers - awesome figures, as always.
Bronco Range finder – an excellent kit.
MasterBox German Prisoners set, with Hornet heads. These too were well done. I've had mixed experiences with their products, but these were well done and fit the scene well.
Miniart horsemen set paratrooper, on the captured motorcycle. (I discovered this trick, years ago. Any figure produced to ride a horse, can just as easily be reconfigured to ride a motorcycle.)
Great Wall Hobby BMW R75 Motorcycle kit
For the photos, I picked up a Model Rail Road backdrop poster.
All comments appreciated. How could I have improved on this?
Ralph