I have some on order for my m48's and m113's,anyone have experience with these,pro's and con's
I haven't used those specific track sets from AFV, but I have used several others and found them to be very nice. Assembly can be a bit tedious since they are subject to all of the casting-molding flaws of all other injection molded kit parts (in other words, they still have to be cut off the sprue cleaned up a bit and the cement carefully applied), but IRT design and fit - no problems at all.
I should say that I used these tracks on other AFV Club models, though. Still, they indy link tracks were perfect fits.
The M48 tracks are supposed to be workable but they are definitely not. The end connectors are a loose fit and the material does not take to hard solvents e.g. white spirit or turpentine or lacquer thinner.
There are sink marks on each link that need to be filled.
Many people have posted their experience with them, you might try to do a search on the forums to find their posts.
Good luck with your builds.
I've used their T-48 Sherman, T-54/55/62 Omsh, Sd.kfz. 251, Tiger I, and Centurion tracks and been very happy with the results. The 251 tracks were a bit more challenging due to their soft pads, but nothing outlandish.
I've used these tracks on two AFV Club models: T80 on my M40, and the M48 ones on my M88. Building them was tedious, as with all single link tracks. To keep them workable, I put a little cement in the track pin holes of every end connector - of only one pin, and on the same pin's inside and outside / right and left of the link, of course. That trapped the next link, but left it movable.
On the M40, I used extra thin glue for this. Bad mistake, as the track pins get badly stressed in the assembly process, and the strong solvent finished them off in a number of cases. (I've read similar things about using enamel washes on these tracks, but haven't tried that myself.) As you build and learn, I took tube cement on the M88's tracks and had no problems at all with them. Super glue probably would've worked as well, but again, I have no experience with it.
HTH, Peter
You will be looking at medium to severe sink marks (Front and Back) and knock out marks on those tracks.
T97E2 :

T-142: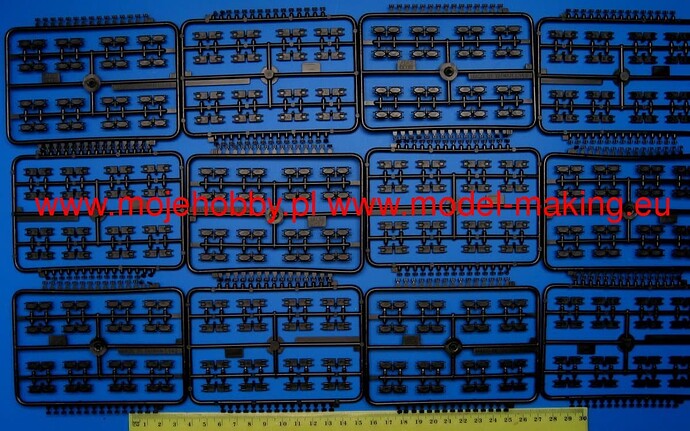 T130E1:

I have built 3 sets and vowed never to use them again. As said above, the first two sets are not workable, the end connectors fall off as you assemble the lengths, Treat them as you would magic tracks, just glue them to shape. My sets repelled Tamiya extra thin.
Against that, I have done their Churchill tracks and I am doing their LVT 4 tracks and found them excellent although a lot of clean up.
DO NOT use nippers to cut through the attachment points on the M48 tracks or they will snap in the centre. Use a razor saw to remove them close to the main sprue artery and then trim the attachment point off when they are free of the sprue.
Good luck.
Back in the 1990s I built an M60A3 using the T142 tracks, hey worked great, no sink holes or pin marks. I have another set in the stash, looking at them through the bags, I see some very minor pin marks on the inside faces, those should be no problem.
On the other hand, I had a set of tracks for the M113, I think they were the T130E1 tracks, they were horrible, huge pin marks on the front face of every one of them. Too much work for me! Sold them on eBay.
Ken
I've built up several sets of AFV Club tracks for various US self-propelled guns and tanks and have 5 more sets in the stash. My suggestions:
Deal with any sink marks or ejector pin marks before removing from the sprue
Remove from the sprue with GodHand or similar high quality sprue cutters or a razor saw. A cheap sprue cutter will break or deform the pins.
Cut all of the parts from the sprue and store in small containers ready for assembly line use
Create an assembly jig from telescoping Evergreen rectangular tubing to assist in the assembly
Assemble 10 links at a time gluing both sides of one end of the end connectors. I used Tamiya thin (green top) or Testor's black label.
Once assembled and on the tank, I glue them down to the road wheels to prevent damage in handling
I generally prime, paint, and weather the tracks on the vehicle. It is more efficient, ends up with excellent results, and reduces the handling damage.
Enjoy!
Thanks guys, I'll order Tylenol today