When I was a kid I built MPC's Richard Petty '71 Road Runner. It was one of the NASCAR kits I built and the only one as an adult I remember building.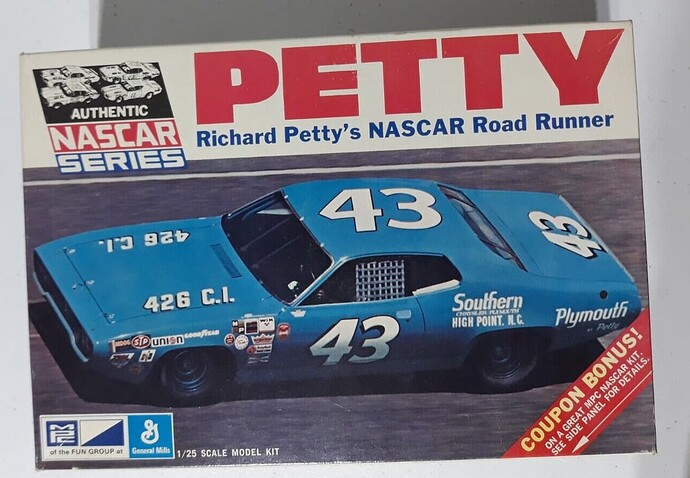 For old time sake I decided I wanted to build that kit again. So I started looking for a kit of it. I finally found one in a model shop, behind the counter. Great, I open the kit and all of the parts are there …along with a $149 price tag. ? ? ? Why would a simple MPC kit cost that? So I said Oh well until I found out JR Salvos made the upgrade of the same kit. Great!


Well That kit runs $250. Have I stumbled onto the holy grail of model cars? The kit was about $40 originally. Richard Pettys 72 Road Runner is $38.
New plan. This is like going to Home Depot for a part and not finding it. Instead you have to buy 4 items to coble together a fix.
I saw Richard Petty's 72 Roadrunner and to my eye, the bodies were the same as the 71.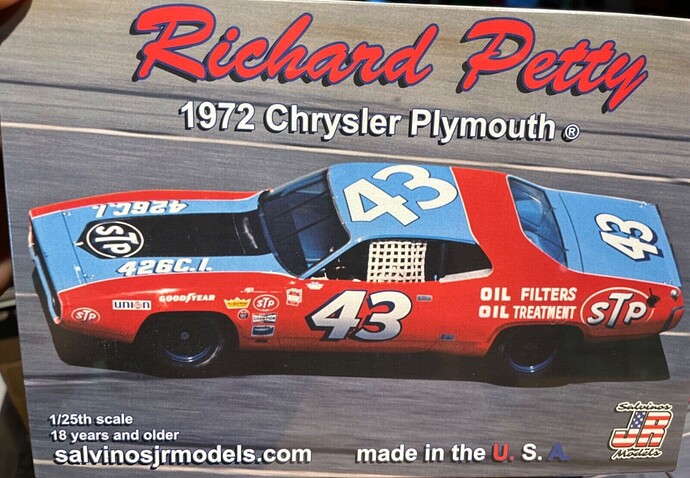 In fact the 72 kit (for $38) is molded in the same color blue.
I bought the '72 figuring I could do a work around. I just needed a decal sheet.
I called the Jr Salvinos company and asked If I could buy a decal sheet. Sorry they were out. Well, when did he think they would make another run of the kits. He said they had no plans to. They make a run of about 2500 and that is it. If they made more, it would devalue the kits the collectors have, I was thinking no brainer just change the box art and run another batch…nope. ( If you sell your kits for about $25 to distributors, why would you care what the collector's market was doing?)
I found a company that made a decal sheet of that car and spent about $20 on ebay.
They arrived today and what a waste of $20. The registry of the decals was terrible and the white was not opaque.
What do you guys do in a situation like this? No one on this site gives up and we always come up with a solution.
So does anyone have a suggestion or solution, other than a $250 decal sheet?
Just to add insult to injury, here is a site I can get the Jr salvino 71 kit for $29… minus decals.
1971 Road Runner Salvino's JR Models - Salvino's JR Models - Dodge - (mikesdecals.com)