Love the groundwork already, and that figure is really good too!
@bwilt thank you, your dio has given me inspiration in these past weeks! The figure is an old zvezda/italeri one, can't believe it came out so well.
Here's another update from this weekend. Just finished my T-28, still working on positioning of the Tank commander but I'm leaning towards the current position.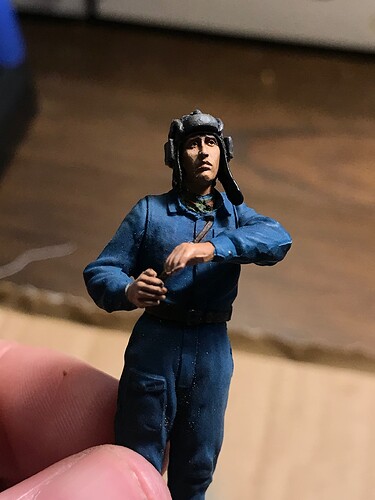 Well, nice to know I inspired someone

I don't know if you now the trick of cutting arms and legs at the joints (shoulders elbows knees) to adjust the figures to the way you want them to stand or sit? Then just fill up the ut with putty or glue. Beause than you could use his left or right arm to wave at the passing soldiers?
@bwilt that's a great idea, I've heard of the trick but haven't used it in practice yet. I thought of something like that but i kind of wanted to give an ambiance of everyone's looking in a direction that their marching in. Like a "God help those poor bastards."
Was able to get a third figure done during the week. I used ammo migs soviet uniform paint set and airbrushed the cover and used ak interactives red for the star. Uniform jacket is ammo Migs state grey mixed with black and highlighted with a warm skin tone, the belt and holster were painted with ammo Migs burnt sand paint, the gloves were a mix of German camo brown for the base and red leather for the highlights. Pants are ak interactive Russian blue base and Prussian blue for the highlights.

That is very good!! Very well done!! His fae is great, wish I could do that kind of face painting
@bwilt thank you! I thought your face painting was really good. What do you use for paints? I struggled for the longest time painting faces and just watched YouTube videos. A lot of my problem was from not using a wet pallet and making think layers.
I did that with my Bulgarian AHN figure to position his feet on to the petals. Used apoxie sculpt to fill in the voids.
There is figure campaign going on with lots of great tips on painting faces.
@Gregory_J_Copplin, you can enter in with one of those figures already painted (you have the basics before, during and after photos) or any more you might have for this diorama.
I think your whole project is turning out great so far.
@Tank_1812 thank you, i thought about entering it here with a 1/16 verlinden let's go fallschirmjager but I think I'll show off these figures once done and just take extra photos.
Btw, does anyone take a picture of there figures with the flash on to see if the paint is too blotchy?
Any figure you want to enter is fine with me, these or Verlinden. I had forgotten if you posted in the campaign, so apologies if you did. I am always looking to include others in the figure campaign as it's the first in a long time and many people might not know about.
I don't use flash but any technique is good if it helps.
@Tank_1812 oh trust me if i posted the flash picture it wouldn't be pretty. No flash is better hahaha. I'm going to join the campaign today! I'll post all my figures so far and keep adding to it! Thank you for including me.
Would my 1/35 Stalingrad 1943 Kursk officer work for a 1941 diorama. I feel like his uniform is out of place. I know he is carrying a PPSH-41 but i think by the way he's gripping the gun it could pass as a PPD-40?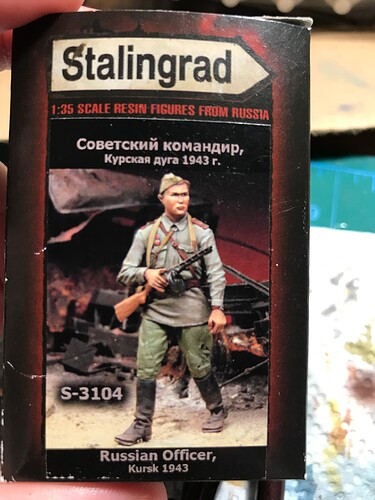 Okay guys I've finished another figure and am almost finished with my first infantry figure too.
Here is the finished alpine miniatures soviet tank crew.
I used ammo migs soviet uniform paint set and followed their step by step guide. It came out well but i know that I'll need to refine and do more brush work to make it perfect in the future.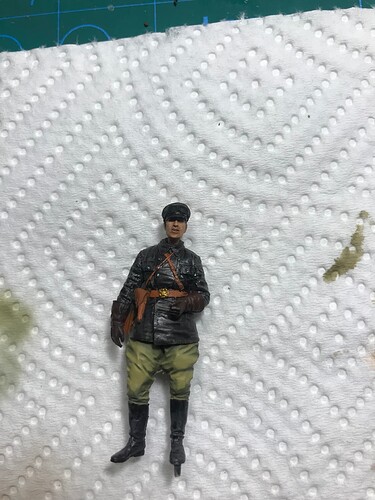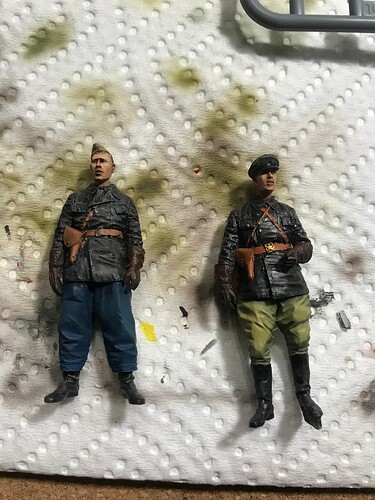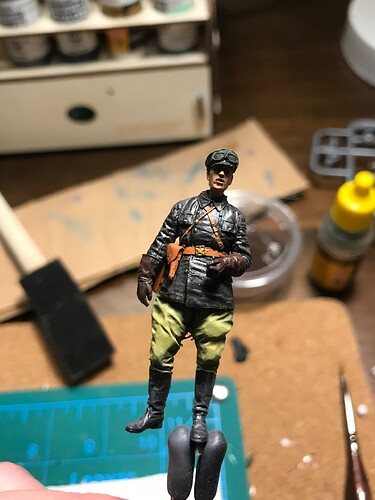 They really look great, that leather jacket is fantastic, as are his boots!
@bwilt thank you! The boots weren't as hard but getting the right highlights was a bit difficult.
First infantry figure completed today. The figure is from the manufacture Tank. The mosin got beat up a little and is a bit shorter cause of it. Uniform was air brushed with ammo migs soviet uniform paint set.
Wow that is some fine looking figure work! Bravo!
I think that one figure that you asked about earlier would work for 1941, aside from the Ppsh sub machine gun. And of course any magazine pouch for that weapon. But his uniform is correct with the pre war collar on his uniform blouse.
@Stikpusher Thank you! I was surprised with how well the face came out, i was a bit timid about the facial features but i think they worked to my advantage.
On the officer figure I may modify the ppsh as best as i can but honestly not much difference between the 40 and 41 variant except for the stock. The only thing I've seen that is wrong on the uniform is that the shoulder boards didn't come about until 1943.
Edit: I think I'm going to paint the officer with a green top rather then an all khaki uniform. Give the diorama some more color variation.
Hey all, I've completed the dio and will be posting in a new threat, come check it out!