Thank you I still have some Polly Scale left which I love but I'm almost out. Thanks
Vallejo and Mission Model Paints have German armor Colors.
AK and Mig Ammo are slso acrylic options.
Tamiya
FWIW - IMO,
In the hair splitting sense of color accuracy, I don't think any of the current batch of acrylic paints available are all that and a bag of chips regarding color accuracy.
However, good results can be had with all of brands listed. After weathering, scale color adjustments and so forth, it's almost a matter of if it looks right it is right in my opinion.
I like the look of the Mission Model Paints the best of the current acrylic paints I've tinkered with. However, I'll be sticking with enamel Floquil Military Colors for a long while.
The lacquers paints by MRP/Mr Paint seem
to be the best for dead on color accuracy. Chips painted in MRP/Mr Paint are a near perfect match to unfaded original Panzer Gray for instance.
One more option is Gunze acrylic for RAL Panzer use colors.
Don't sweat the exact color. Anything close will do as once all the weathering etc. are done you won't be able to recognize the original color. Good luck.
…and I'll bow out here with just one thing to say…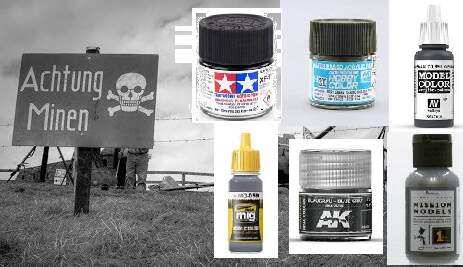 This should of been the first reply … pretty much sums it up
I'd just use pink and purple as with all the weathering, chipping, mud and rust that's the latest fashion it won't matter much, then give it a winter whitewash and all good.
Unless you were going for a just out of the factory or realistic look.
I love Mission Models but it's something so personal that my favorite paint is someone else's nightmare, I'm also from the "good enough" school about colors,because filters, washes etc … changes everything