Does anyone other than Special Hobby produce a small-scale (1/72 or 1/76) kit of the German 'Biber' Midget submarine?
Paul

Answering my own question, I have found no small-scale kit of the 'Biber' (other than the one from Special Hobby. However, I note that ICM produce two versions of the Type XXVIIB 'Seehund' (early and late versions), both in 1/72 scale. Perfect!!
Paul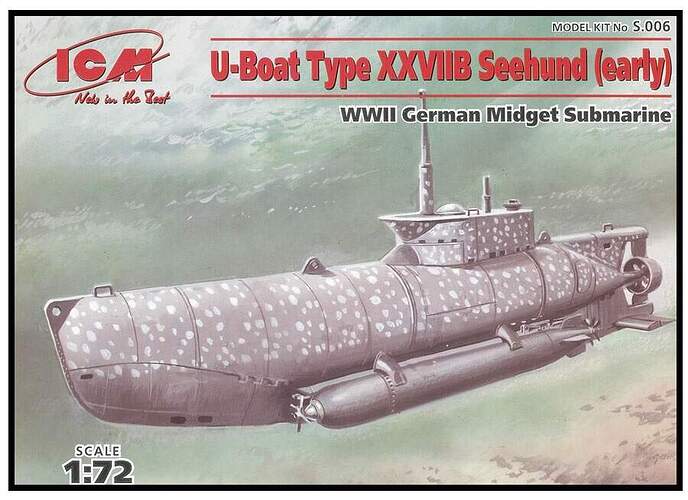 Paul, unfortunatly nothing else than Special hobbies. Italeri kit 5609 is a Biber in 1:35 scale, here is the link to Italeri Homepage: ITALERI - Biber Midget Submarine but likely to big for your scale taste
Choroszy Modelbud No. S15 (resin)
Special Navy No. SN72006 (plastic sprue)
A note about ICM's Seehund: The hatch dome in the kit is not clear, as it should be, but is solid color plastic. For a better appearance you will have to source a clear dome around 1/4" in diameter. I cut the ends off clear capsule-shaped containers that some small RR parts (couplers) came in.

Thanks for the useful responses.
Interesting observation about the ICM 'Seehund' … how annoying!
Paul
If it's any help here's a guide to capsule sizes and diameters: Empty Capsules Sizes Chart | Capsuline
These are gelatin capsules meant for ingestion so could be fragile, but can be as cheap as a few bucks for 100 - so plenty of spares for errors!