Hi everyone! Here's a couple photos of my newly-finished T34-E from Border Model. Link to my review - Entry No.2: Border Model T34E Review - Blog - Autoloader Decals
Enjoy!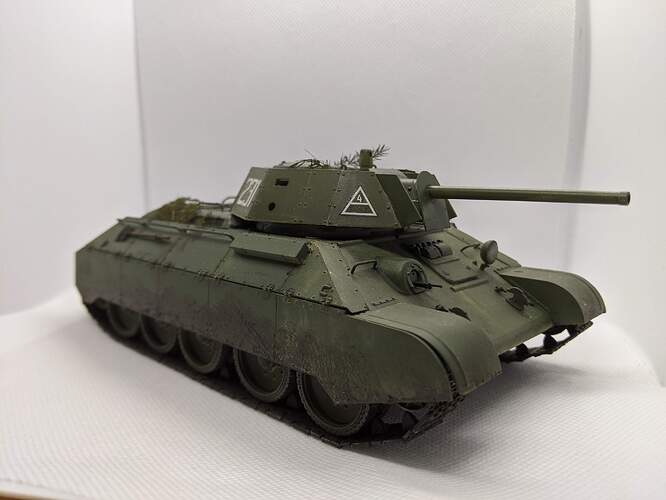 Nice build, interesting subject. Now I'll have to go find one
Wow that's a sharp looking T-34. Looks like you did an excellent build and Border made an excellent kit.
I like your build article in the like as well. Appreciate the tip on adding weight etc. Sounds like a set of aftermarket white metal tracks will make for a more build. Thank you for the review.
Your build looks good. I appreciate the build review as I just got the kit. Hope to build it later this year or early next. What did you use for the foliage?
Looks good for a what-if/WOT vehicle. Too bad the Soviets never made it. I wonder how effective it really would have been?
White metal tracks, I would say, are pretty much a must-have. You can use the tracks in the kit, but this kit could definitely use some Fruilmodel tracks.
I was under the impression 68 versions where built.
I used an asparagus fern that I bought off of Etsy. If you look up "asparagus plumosis etsy" on Google it should be the first result. You buy em in packs of around seven or so fronds, and then they can be painted and affixed to the model. NightShift Scale Modelling on youtube recently did a video on them, it was top notch.
The only places I have seen that claim or any mention of a T34-E are at the site you linked to and WOT sites. No other record of a T34-E exists. The only other close is the T-34/76E, which was what the Germans called the later production variants with a new commander's cupola.
I included a history of the vehicle in the review, 68 were built, but most destroyed in Summer '43
Thanks Dennis, I look will that up.
There is a couple pics of spaced armor here. Not sure if the same as the Border model.
So even if the name is incorrect it appears the tank itself exists unless you are saying those photos are fake too? From the history it appears It didn't work as planned, as all where destroyed in one battle.
The T34-E was a complete faliure, the armour was essentially of no utility outside the testing range. I wouldn't be surprised if the Soviets "lost" some archival data on it's performance.
It looks like the Soviets tested different add-on armor, but not exactly like on the model and it was not called T34-E. Those are made up by the gamers. The concept looks to be valid though.
They were fielded…pictures can be found on the web…most shots are of knocked out vehicles by 88 paks.