Thanks Angel, great references and images. Very very useful
Did y'all have Krupp Protze kfz.69? I recall someone other then Germany also having it but it escapes me who that was. Looking at other possibly kits on hand Italeri RSO-1 and a few motorcycles M72 w/mortar or Masterbox R75. Any of these work?
To your questions, Ryan:
The only Bulgarian Krupp Protze I know of, is a Kfz.70 that was "liberated" from its originally German owners in Hungary.
I have a picture and the Protze has the Armored Brigade logo.

RSO/1:
Yes- 40 vehicles were delivered for Armored Brigade's motorized Anti-tank Battalion. They proved unfit to tow the PAK 40 guns the Battalion fielded. Eventually the RSO/1's were used as tractors for the leFH18/leFH 18/40 howitzers.
I can provide pictures and info on registration numbers.

M-72 motocycle was a copy of the German BMW R-71.
I think Bulgarian Royal Army had the R-71 in its inventory, but I need to check- I'm not a big fan of motorcycles.
I'm not sure what you mean with Masterbox M75…
Is it a copy of BMW R75?
HTH,
Cheers,
Angel
Thanks Angel. Looks like the RSO/1 might be a winner. I did mean R75. Just looking for something outside the norm. Any information would be great.
Ryan,
BMW R-71S - 204 pieces delivered to Bulgaria between 1940 and 1942.
BMW R-75 - over 400 pieces arrived in Bulgaria in 1943.
Steyr RSO/1- 40 vehicles received in February 1943.
HTH!
Cheers,
Angel
Thanks for the information. I assume the colors didn't really change from German stock color for any of those three choices?
Paint them grey and you won't be mistaken!


Using @Armor_Buff Wades idea I drew this.
(Im very happy with how it came out. I think art class and the 6 hours it took to draw paid off!)

Now Ezra,
If you have another 168 hours available you can add the entire Bulgarian First Army on top of the Maus…
Cheers, that was a good laugh…
Angel
I have that DML Panther G but I'm unsure whether to do it with a normal manlet or the chin version. I will also be doing the crew heater version as well.
John,
Reg. number B 60422(Fgst.No 128898) was a mid-December 1944 MNH production Ausf.G and must have had the crew heater, introduced in the beginning of December 1944 at MNH.
With regard to chin mantlet- although introduced in October 1944, MNH still had turrets with normal mantlets on their assemby line when the war ended.
HTH,
Cheers,
Angel
Angel,
I think I will do the RSO/1 using the Tomy kit in the Testors/Italeri boxing w/Master Club tracks (need to find them again). Been saving instructions for Eduard and Voyager pe sets to what details need to be updated. I am thinking I can do the parts I was going to use myself from what I have to improve the kit. I saw one photo online so anymore or information about numbers and markings will be helpful.
Then B60422 it is… That's made it nice and easy … Thanks Angel
Special Hobby is releasing a German solider riding a Hetzer and it got me thinking (never good), how hard would it be to make him a Bulgarian solider riding a Bulgarian Hetzer?
The leFH18 is much heavier than the PaK40, may be the RSO were overpowered for the task and considered a waste of resources? Otherwise, I can not understand…
The Germans had similar experiences with the RSO towing PaK 40.
The abrupt sideways jerking when steering the RSO caused oscillations in the gun so that the gun sights were jerked out of calibration. Maybe a longer gun tube causes worse issues than a shorter one?
Finished proifile with a great suggestion by Wade to add a tri of panzerfausts to the sides of the turret that could be remotly fired by the loader, why?..why not!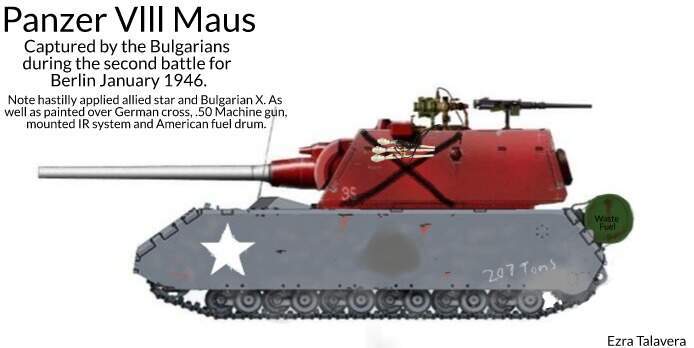 I haven't seen the report on testing the RSO in the Armored Brigade, thus I can't give any information on reasons why it was rejected.
Eventually the Armored Brigade found a tractor, that covered its requirements for towing the PAK 40.It was the Ford V3000 S/SSM "Maultier".
I think-beside Robin's valid points(@Robin_Nilsson) - the explanation might also be in the terrain, where the guns were to be towed.
In the East the German Army had vast plains to fight and tow guns on.
In the Balkans plains are more of an exception to the rule.
Cheers,
Angel
I've set up the Bulgarian WWII Campaign proposal following the guidelines of the newly created Campaign/Group Builds template
I guess all willing to participate will need to confirm their desire to join by pressing either the Going or Interested tab.
Not going is an option too

but it won't make me happy as I should be
I will also create a badge for the campaign.Soon.
Cheers,
Angel