Something else for you all to look at (and hopefully enjoy). Another attempt at telling a clever story.
It's another diorama that I pulled off of my shelf – actually, about ten years old.
The story I'm trying to tell:
Tank engines are loud, so it becomes possible for one to sneak up on the other. In this case it's a lowly M5, light – a mouse of a tank, named Jerry, who found themselves hiding just around the corner from a big, bad German Panther (cat).
Luckily for the Americans, The Panzertruppen are completely distracted by the air-war up above. We'd have called that 'a lack of situational awareness.'
The US Master sergeant is trying to decide what to do about the situation. What do you think?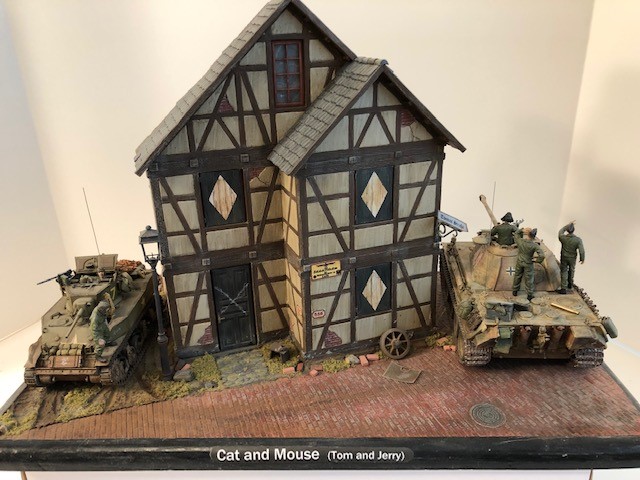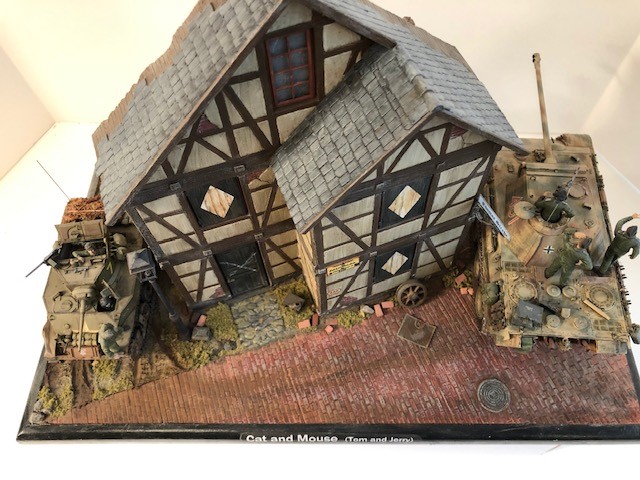 Even though it's old, it's a favorite of mine, as I think it's just able to realistically show both sides of the battle, on one board.
If you're familiar with my other efforts, you know that the base is wider than what I like, but necessary in this case.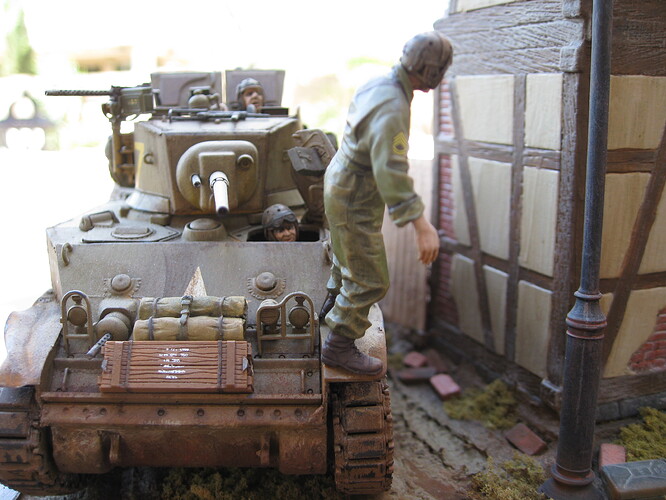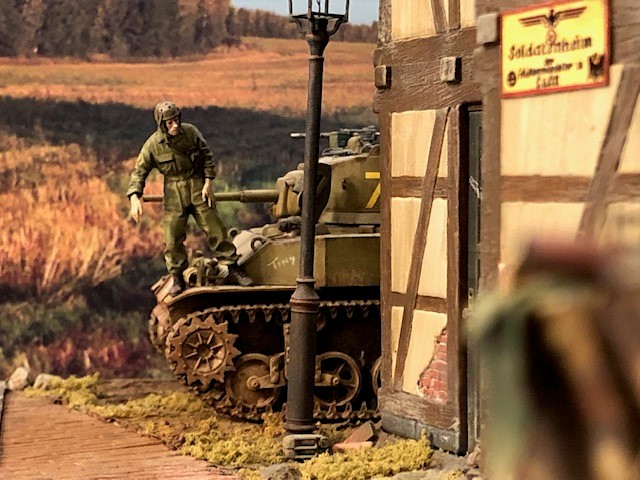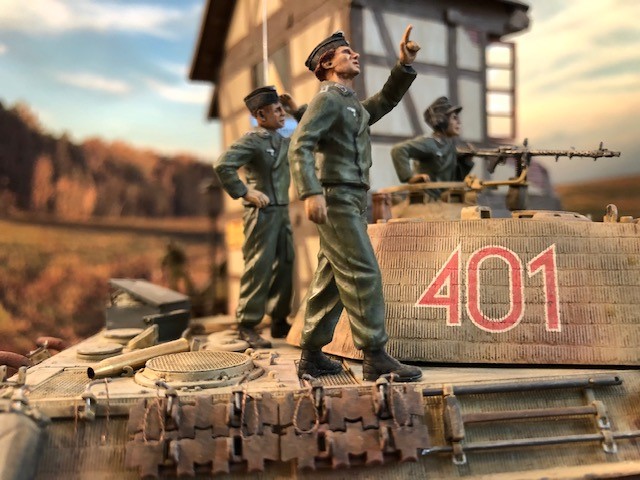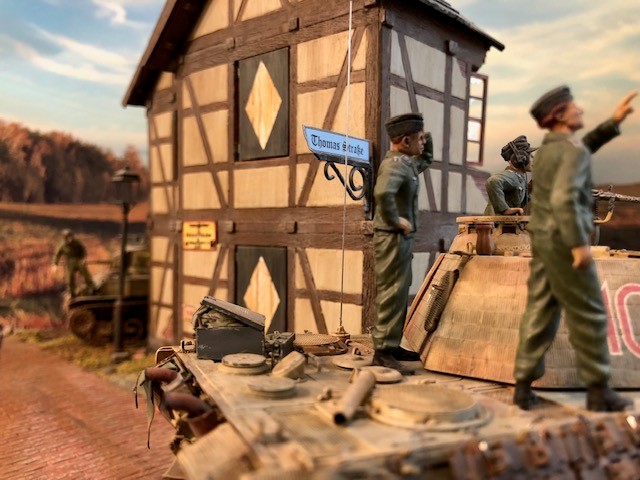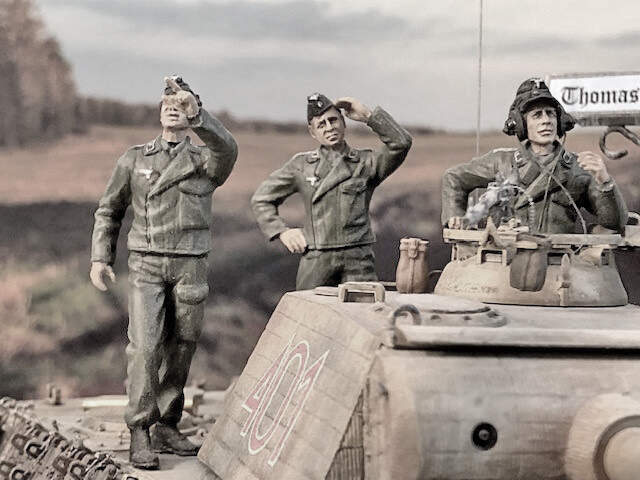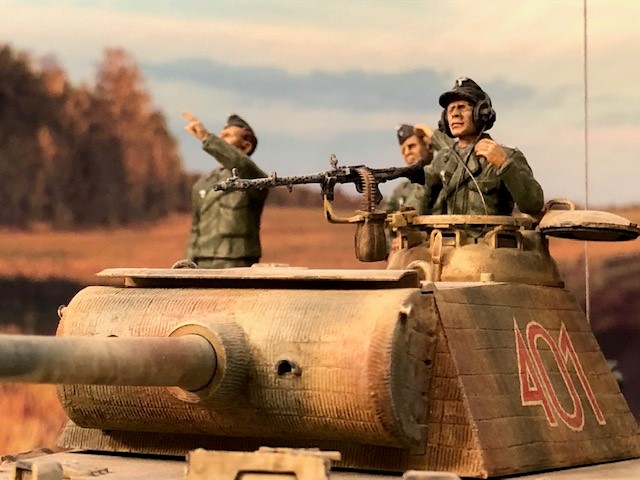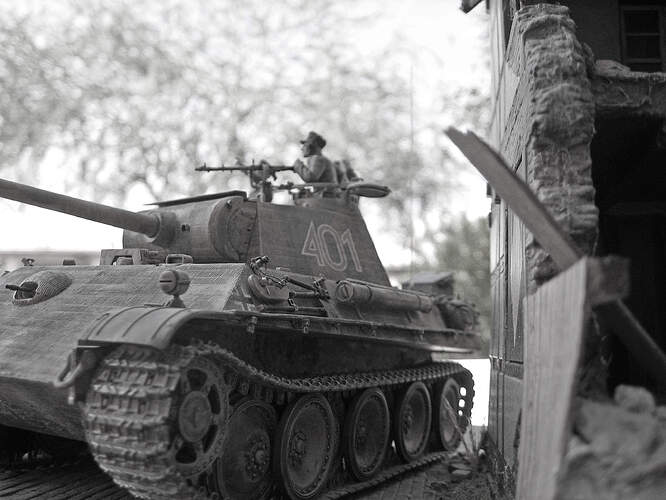 A couple little details I'm proud of: The Alpine figure's pose was perfect to show the guy standing on the fender, leaning out to get a better look. The tilt on the panzer crewman's head. The street sign, naming Tom (Thomas Strasse). The stencils on the military crates, always add a lot of authenticity, and visual interest. The American in the turret, asking, "what do you see, sarge?"
Details:
The Sargent is an Alpine figure, while the others are from Dragon, with Hornet heads, of course. That Dragon set is really a diorama in itself. Perfect!
The building is from MiniArt. I always battle to assemble them, but they do (usually) come out looking good.
I'm afraid I don't' recall which manufacturer's Panther kit I used. I think I've built just about all of them, at one time or another I'm pretty sure that's old Cavalier Zimmerit. I really miss their stuff…
As always, I find it fun to switch some photos to Black and White, to see how close they come to the real thing.
That was the best backdrop I had for those photos. Something more of a town scene would have been better…