Input on the best material for chain link fencing for 1/35 Vietnam diorama and rolls on vehicles
I have a roll that came in the M113 ACAV kit that Tamiya released, along with some copper wire to bind it.
Though I'd be hard pressed to find the scale. Might have to hit the Hobby Lobby and find something similar.
I have a few pieces of this in my m113's,trying to find more for some diorama work I'm planning,went to the k&s metal site but all there stuff is back ordered,have found some screen replacement but I'm hung up as to the scale or sizes,but thanks
Look for tulle mesh at a fabric shop. The right one will have bends that look more like fencing than just diamond pattern:
Hobby Lobby, Michael or Joann's have it if you are in the US. They sell it by the yard, you'll have enough there to do a perimeter fence of an airbase! If your at Hobby Lobby swing by the aisle that has all those odd ball plain wooden knick knacks to finish for your rustic home decor and grab a very inexpensive pack of cheese clothe, perfect for camo netting, same stuff you'll pay the 'hobby tax' on, just paint it.
Good morning. There was this Verlinden set: Mesh Wire, Verlinden Productions 48
It was (I think) close enough to what you're looking for. Luck.

EBay? All sorts of wire mesh, takes some searching through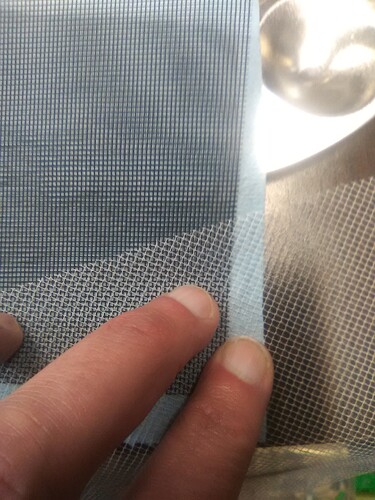 Hope the picture turns out well enough, the black mesh on the left is what Tamiya includes in the Sheridan kit to use for chain link. The white is the tulle I bought at a fabric store. Used for veils and stuff like that. I give my vote to the tulle, as I noted it's super cheap cause it's not repackaged with some of the vendors we know that add on their "value added" tax.