I used a piece of 1/4" thick foamcore with the paper backing stripped off one side. Then I selected a handy tool (in this case, the rounded end of a paint brush handle - the handle is about 1/2" diameter. The larger the diameter = larger wave patten, and vice versa). I pressed the end of the handle into the foam surface continuously until the surface was thoroughly craterized, but it looked like a flat golf ball so I made more impressions overlapping the previous. When I was satisfied, I airbrushed everything Tamiya Sea Blue, then just the wave tops with Tamiya Clear Blue. White for the ship's wake, and disturbed water. Then a liberal coating of clear acrylic varnish - several times because the foam tended to soak up the varnish. I also stippled clear acrylic modelling paste to form the bow wave and disturbed water along the hull sides.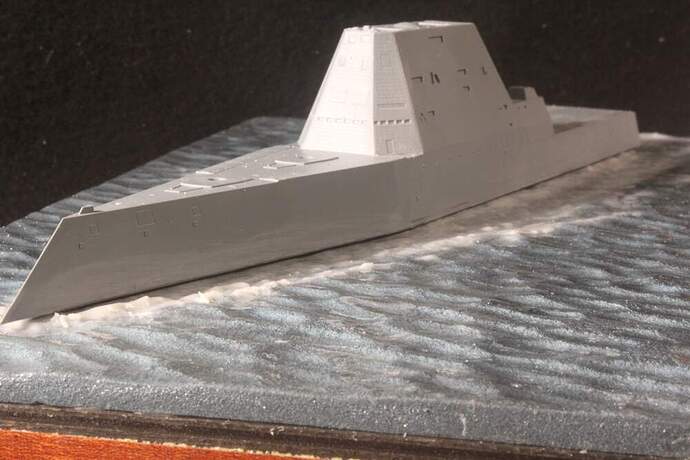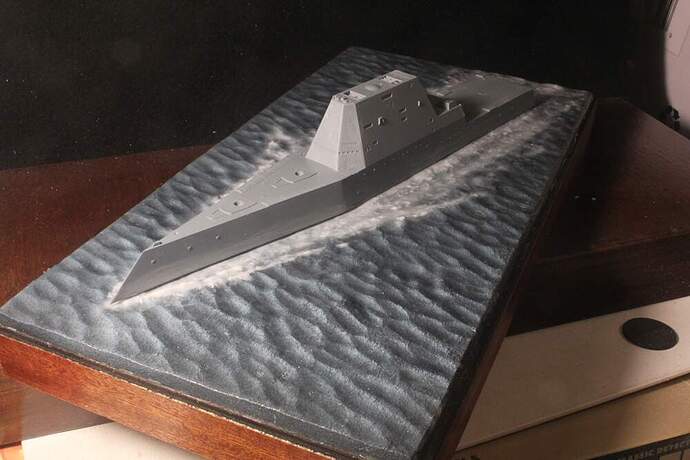 Admittedly I've seen better (but more expensive, and labor intensive) representations, but I did say this is "cheap and easy" - great for lazy modelers, like me, who want a quick base for their model that doesn't look too bad. This base was made for my Flyhawk Zumwalt. The model has yet to be finished, and the base tweaked here and there, and some bow spray added.
Sooo…not bad, or piece of crap? Comments on improvements?