Many people are lamenting the loss of their Award Ribbon tally that shows in the old Forum. If anyone is interested there is a way you can kind of duplicate that here using MS Paint on your PC. It is not perfect, but is an option. When you do it, when someone clicks on your icon in a post, the award tally will show up in the background like this: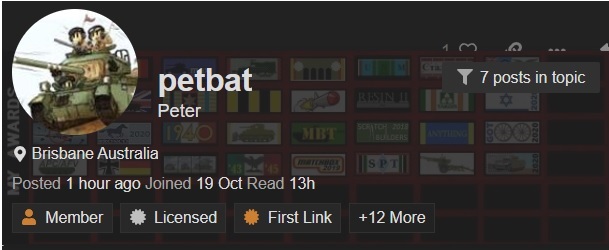 You need to start with a template 568 x 186 pixels as a background you will add your awards to, or you can use the one I have made here:

When you have your template set up in MS Paint, simply go to the old forum and open your profile there. Your list of awards is in your profile and to copy the award graphic double click on it in your tally. That will open the original Enlist page for that build, then right click on the award shown on the Enlist page, then select 'Copy' from the options.
Go to your new template in Paint and Paste the image into that, then move the pasted image into place (The black rectangle in my template). You may need Zoom in on your template to make the pasted image large enough for the move cursor to appear. When all are in place, save your template in MS paint .
Go back to you old Forum Profile page and repeat the copy and paste for all awards you have.
When you finished copying the awards and have saved the image, go to the new Forum and Click on your Avatar on the tp right, then select the head and shoulders Icon from the list that pops up. Then select Preferences from the next list that pops up.

From the Account screen that then pops up select Profile, then scroll down the page until you see User Card Background. Inside the grey panel is an image icon, click on that and search for the image you saved. When that has uploaded scroll down to the bottom of the page and select Save Changes.

Go to a thread you have posted in and click on your own avatar. If it has saved correctly, your award tally should show in the background like mine.
If you have more awards than the spaces on my template, you can build a larger template for yourself but the system will shrink the image to fit its parameters