I am presently fixing this kit from my butchered state. I started it in 2020 and got the road wheels and suspension buffaloed. I got to where I was ready to put the track on it and then realized that I had messed something up because I didn't have enough track for one side let alone 2. So everything stopped until I could find my mistake.
Finally I realized I had put the suspension on wrong placing the vehicle to high off the ground! So I cut everything off and put it away for a good while. I started on it again last week and over roughly 5 days and probably about 5 hours a night I super glued everything back on into approximately the right position and then started playing with the kits track links which are small for my sausage fingers and immediately started to worry about the number of links I had. Possibly some went into that convenient dimension that takes our parts. So started looking to my collection of spare parts and found the track for a panzer 2 Ausf F/G that I have from Tamiya that I have metal track for so I figured that it's a paper panzer anyway and rather tiny looking at it not really sure what the designer was on at the time but I don't think it would be very nice to be in anyway. It mounts 2 88's I think

not really sure on that one. But I got two barrels for it although now I'm not sure if I'll change them for a couple of metal barrels I have here for my various projects. Actually that thought just happened because I'm just finished cleaning up the barrels.
What I am looking at since obviously
I butchered the suspension and used the better part of CA glue and accelerator to get it somewhat resembling the manufacturers picture even with the borrowed track and that was certainly no fun assembling either although faster than what the metal one will go.
I think the instructions and the images in them are themselves lacking continuity. But it maybe

user error also. So keep in mind this is a rescue mission in process and the colour scheme is undecided at this point. I am heavily leaning towards adding schurzen from a Stug that I completed without. I have way to many of those along with Sherman's, Churchill's, and panzers from the mark 4 through the king tiger and all the main sp guns at least for AT…
Please be kind still lots to do. Thanks for looking!!
![image|375x500](upload://py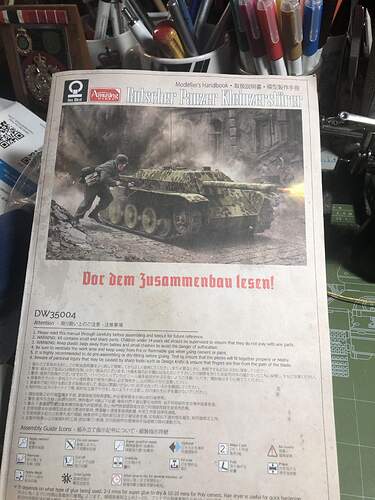 MP3dA7eXgnOF15x5q4RmB8pn2.jpeg)