Amazing amount of detail you have put into that small space and the photography is great also.
Thanks to all of you!
Well it's no secret that I really love working with the groundwork:) cheers!
Pure class, plus your outstanding talent for subtle colouring. You owe it to the world to one day make something much, much more extensive

Thanks a lot man:) Someday I hope to build a real masterpiece, give me 2-3 years and hopefully it will come:) /Erik
I love the level of detail in there. Inspiring stuff!
@PaulG Thanks!
Tonight I finished the building, well some small improvements will be done of course.
Unfortunately I didn't do visible windows, I made the holes in the building too wide, so it wouldn't look good. The shutters to the left window don't fit perfect with the down pipe, sorry for that.
I am still thinking of placing a tree to the left behind the fence.
What's left to do? I have two figures to paint, some detail work on the kettenkrad, some detail work here and there. And the of course the snow.
Here is pictures of how it looks now before I add figures and snow.
Cheers
Looking at the pictures this morning I realize that I must add the hinges for the shutters.
I will do something like in this picture.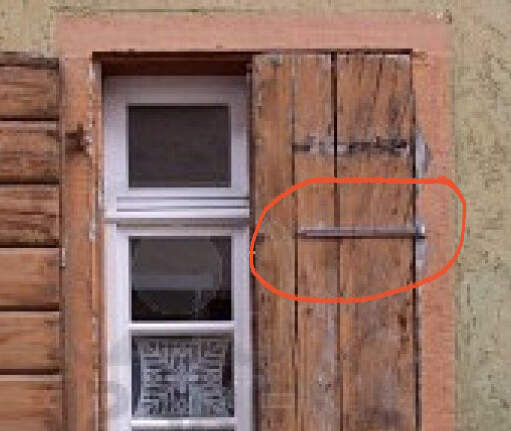 You have done a fantastic job Erik, every part flows into the next piece perfectly. The ground work and foliage are just right, and that clever drop away at the front allows for some added action or scene if ever needed.
I'm not sure about the tree on the side, it would be a shame to hide the brilliant side detailing on the building… Your call though as you will of seen how you want it in your eye …
Are you going for light snow ? If its light at least then you won't hide too much of the beautiful detailing you have added ?
Top job and can't wait for more
Thanks John! Damn! I now realize that I have done this post in the wrong thread…
This could be used by the dio police as evidence…
Thanks for the thoughts John. I will test very carefully…I don't want to hide anything:) /Erik
Looks good! I like it! Well done!
Slick idea for the base! I'll have to keep that one in mind. Fantastic work!
Thanks guys:)
And welcome @Monte! /Erik
Fantastic work on these buildings, Sir!
Absolutely stunning work the way you bring everything together, I wish I had half your talent. Thank you for sharing with us, I look forward to seeing more of your incredible work. Best regards…Dale
Beautiful work, a real treat to see in this scale.