OMG! Fireball5…You just brought back some childhood memories…I loved that
show!
Hope there are figures included!
Cheers,
No unfortunately no figures. A resin kit with some etch.
I watched it as a kid too, I recently downloaded the whole show, and it's great to watch again.
Pete
No figures… to bad…the characters were great…well, enjoy building the spaceship and do post more pics of your progress.
Cheers,
gerry anderson at his best
Some more work on Fireball XL5

Pete
This is looking great!..what brand paint are you using for the metallic?
Cheers,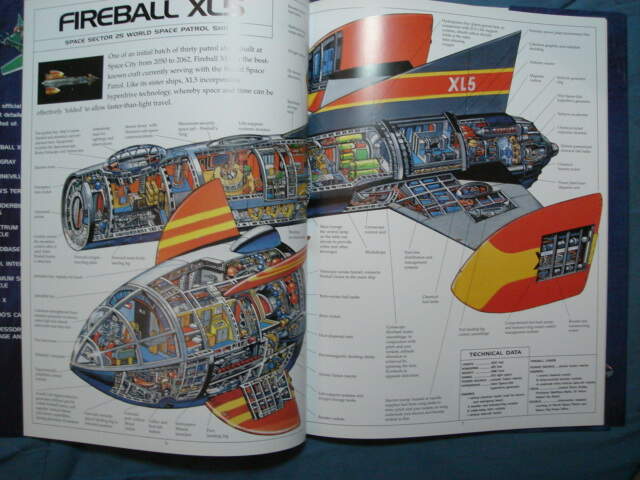 Love it!
Grauwolf
I am using Alcalad II and AK Metallica.
Red and yellow will be Tamiya.
I have decided to build a base in the shape of the launch pad used in the programme.
Cheers
Pete
Wow, never thought anyone would make a model of the XL5. At 18 inches of solid resin, it must weigh a ton. I hope the launcher will be strong enough.
Looks great Pete.
Thanx mate. Yeah it is heavy so a substantial frame will be needed.
Pete
Still some work to do on XL5 decals and the blue hoops on the fuselage next on the list. Some touch ups and the base to construct. But here is a progress picture.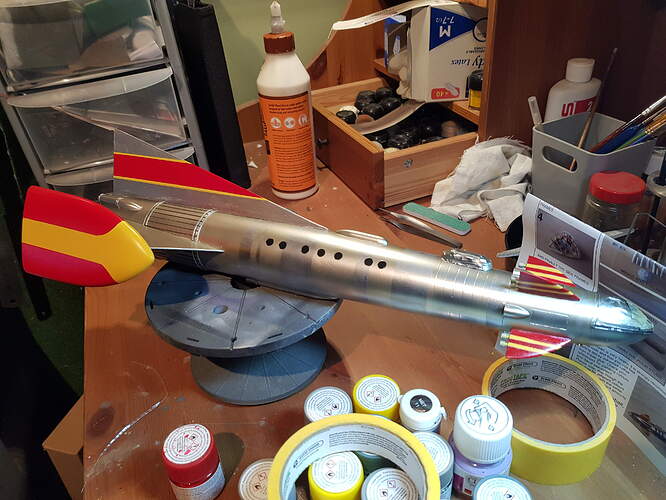 Pete
it's looking great so far mate, keep posting those update pictures.
Well I finally finished Fireball XL5. Changed my mind about the launch pad base…well for now. I need to think about materials for it as it is really heavy and plastic launch pad wont cut it on it's own. Maybe some metal integrated into it would work. Until then I have made a solid clear stand for it to sit on. The kit I would recommend as its straightforward to build and it is a great kit. Anyway here are the finished pics.

Pete
Absolutely sensational Pete. It is definitely one that will catch the eye!
Thanks for posting this thread.
Hi Petbat
Thanks for the kind comments. A very enjoyable build and a great kit, although pricey. Loved the show as a kid and had a toy of XL5, so when I saw the kit at scale model World last year I couldn't resist it.
Thanks again for looking and commenting.
Pete
Love the finished look Pete, its brought back alot of childhood memories of watching it on TV many moons ago. Lovely model and thanks for reminding me how old I actually am lol …
Lol no worries John.
Thanks for the comments