At a large Toys & Railway Memorabilia Collection auction near Sydney yesterday…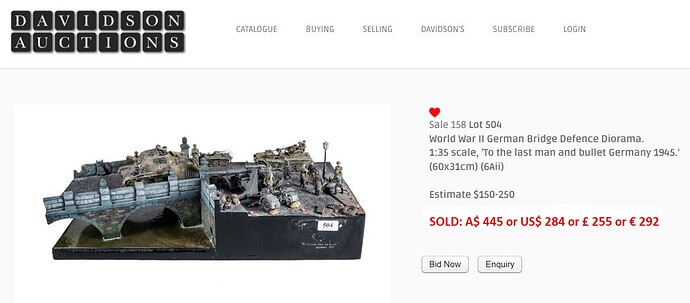 The 27% buyers' premium on the hammer price (A$350) has been added to reflect what the on-line buyer actually paid net.
I didn't go to the auction so didn't see it up close but the quality looks reasonable, apparently by an anonymous builder using recognisable manufacturers' kits/sets. Built maybe late '90's or early noughties (?)
Seller likely nets around A$315 after deductions. How much to build that same dio today – maybe around A$250 (US$160) if the bridge & base were cheaply scratch-built? Hmmm, a profit for an OK diorama on top of the fun of building it. Maybe think twice before trashing past work too, the above item found at least two people (under-bidder & buyer) with open wallets.
(The background being that the above auction (over 5 days) is selling off the entire contents of the Leuralla Toy Museum (privately owned) open 1983-2021. Very strong bidding on star lots such as a Jouet Alfa Romeo P2 racing car (1920's tin-plate) in dark Italian red – the laughable low-ball estimate (A$2,750 to 4,000) had me reaching for the credit card & on-line bidding reg., no surprise it sold for A$15,000 including buyers' premium…alas, to someone else. Maybe a tad above market value but it'll sell again in a couple of years for 33%+ profit, those cars never have dropped in value in good condition…unlike some other forms of investment I can think of)