I have one of those very cheap Chinese airbrush kits, about 50 euros on Amazon.
The little thing is perfect for a beginner like me and it worked flawlessly for 4 models' work (for its price range obviously)
The compressor has no tank, it builds up the pressure as soon as it's turned on.
Now in the last session I noticed that the compressor tries to build up pressure every 3-4 seconds, like there's a leak of air.
It still works fine while spraying, but while on "stand by" it continously ties to to build up the pressure.
It also becomes incredibly hot, the hose's metal connection was painful to touch.
I tried to screw all the parts tighter, but it didn't work.
In the end I tried to remove the water trap and connected the compressor straight to the airbrush…and it worked.
Now…
I know these things are a small miracle just by not breaking on day 1, but I would like to make it last as long as possible.
Looking at the trap itself I can notice there's some "dirt" you can see in this picture.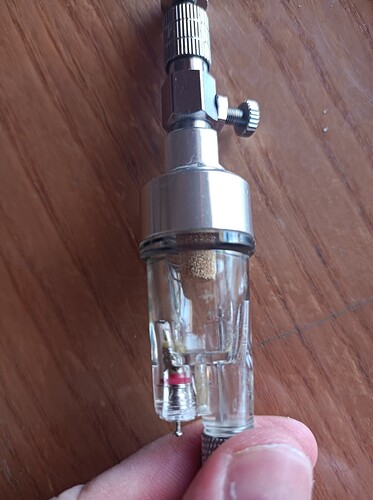 So I was wondering:
-Is there anything I can try?
-Can I safely airbrush without the trap? What consequences could I face? Keep in mind that I'm not a pro and my paint works are far from stellar to begin with.
-Suppose I need to buy a new compressor (I know sooner or later I'll need it) . Is there anything decent I can buy for about 100 €?