My latest build. The M925 shelter truck, please allow for fading eyesight, arthritis and wobbly hands!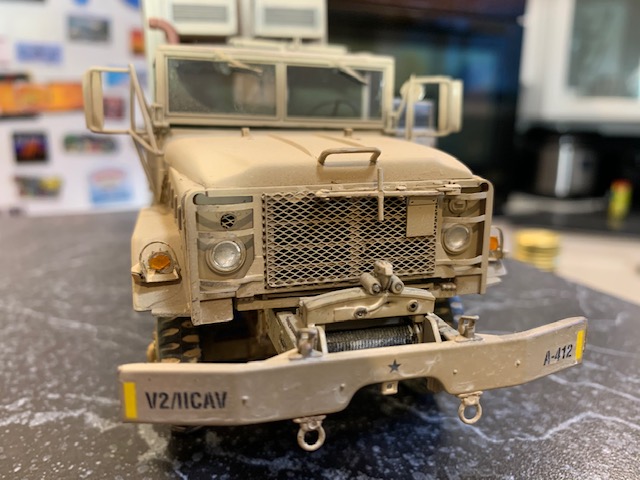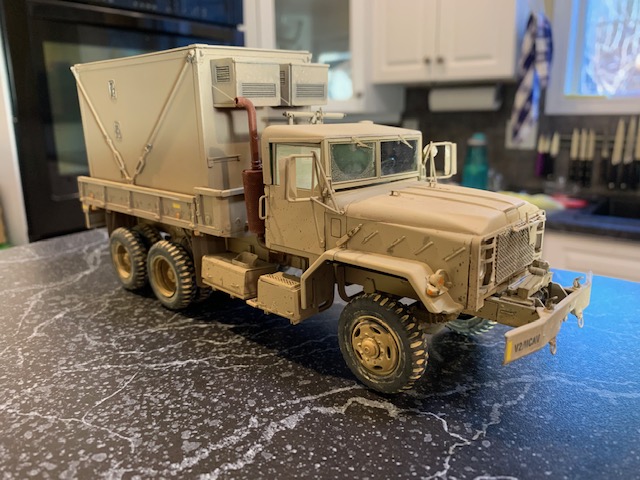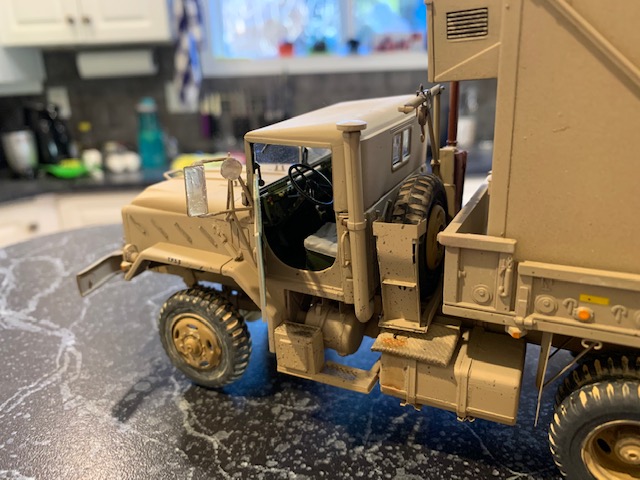 Looks good enough to me! Very nice model indeed.
As an aside, does anyone know if the shelter will also fit an AFV Club M35A2?
Brian
Looks good, especially as I'm working the same 5 ton, but cargo bed. There seems to be an oversized gap along the bottom of the windshield?
Hello Brian
Thanks for that. The box is 104.2 mm long, plus the overhanging a/c units (which would project over the cab on the Deuce I think)
The Deuce's box seems just aboutjust about long enough and possibly wide enogh too, but I glued the tarp on mine so it's difficult to be absolutely sure.
Others may know better.
PS Boots DIRECTLY MOULDED SOLE. I wore those bloody things in the '70's.
By the way folks, what am I doing wrong with Liquitex matt varnish? All that goopy white stuff on the front bumper…
Diluting it, using lightish coats. Any other thoughts?
Thanks for pointing that out. On closer examination the windshield frame is slighly out of alignment with the hood (greater gap on the p/s).
Im trying to cement the p/s widshield frame in place but the p/s door fit is getting in the way.
Roll on February when the new Merit M923 arrives…
The M923 Cargo windshield fit went a little better.
Ah that is one fine looking truck with shelter, this is a discontinued kit right? Man that's a nice model, I've got to have one! Please tell me it's not scratchbuilt.
The shelter is still available as seperate kit.
Many thanks for the dimensions etc; I might just give this one a go - ie try and fit it to the M35. I remember such vehicles with what we would call a Box Body - deploying with us on exercise from time to time. I imagine the configuration (of the shelter) must have been such that it was one and the same for a variety of vehicles as otherwise it doesn't seem to make much sense, though I'm happy to be proved wrong. As with all my modelling ideas though this won't be anytime soon.
Re my moniker ("Boots DMS") - Yup, me too which is why I chose it; I thought only those who know will know(!)
Brian
For the M35 you are probably thinking about the M109A3 Shop Van.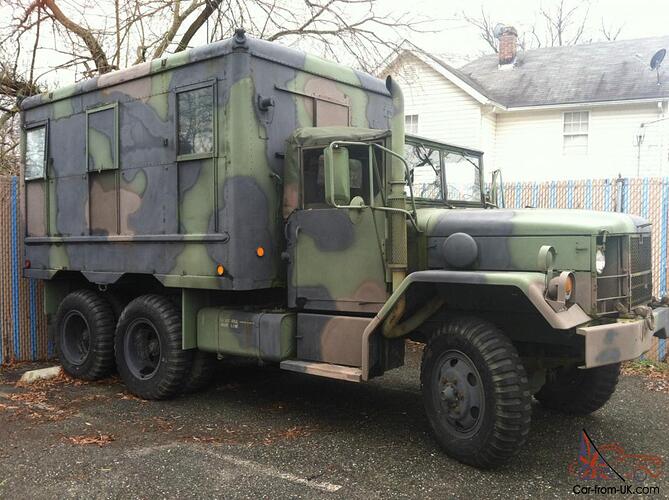 AFV Club does the M109A3. It is very nice and has a full shop interior for the back.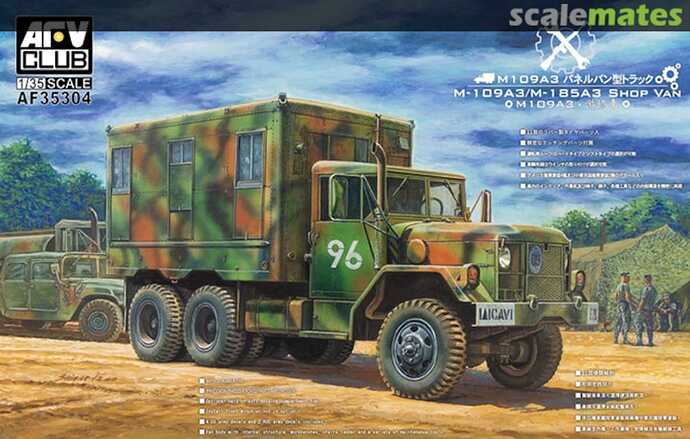 The S280 shelter will fit in the bed of an M35, but it wasn't as common.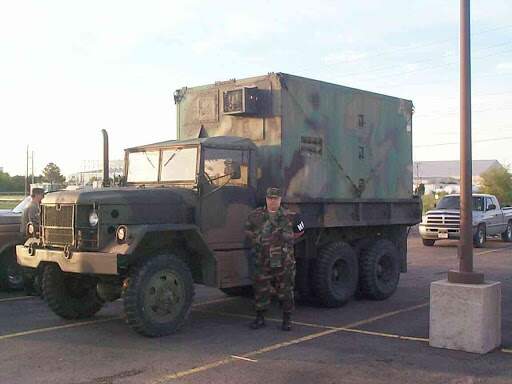 Blockquote
Shelter is 87 inches wide
The inside width of the M923 bed at the front (the fixed part) was 87.5 inches
The M35 has 87 inches flat floor width between stake pockets.
Images of a surplus shelter here:

It was a tight squeeze width wise …
Large image
Communications vehicle, 19th Brigade, Texas State Guard
in operation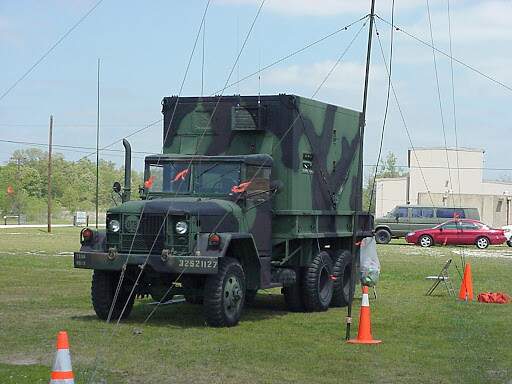 Thanks Gino and Robin; it was definitely the shelter on a truck as I clearly recall the turnbuckles. I was only 17 at the time and this was on a Corps (1st British Corps) HQ Command Post Exercise and the US turned up with one of these and possibly a Gama Goat, also with a shelter. I remember they were in the MASSTER scheme, but can't recall who they were. I do remember being tasked to deliver or collect something or other, possibly a signal message to/from the vehicle. They might have been the nuclear surety boys - would that be 59 Ord Bde Element - or quite possibly, I'm conflating that with another time and even place?
The Shop Van looks very nice but I'll now persevere with the Shelter/M35 combo I think.
Thanks for the info; my memory is sometimes a bit hazy, but 1971 was some time ago (!)
Brian
I have one of those shelters kicking around, leftovers from a complete kit where the truck itself is used for some conversion.
In case you fail to locate one …
Thanks Robin - I'll bear that in mind, that's very kind.
Thanks for your comment. Ive seen this (Italeri, styrene) kit on Ebay recently so you might want to check that out.
I used the Eduard M923 Bigfoot pe set in a few places, I used Tamiya's NATO brown as a base/ primer desert yellow for wheels and their buff for the rest.
I tried to lighten the shelter box roof etc by adding matt white to the buff - it didnt really take…
Shortly after I looked at your post then your reply I saw a couple kits stateside on ebay, I'd be more intrested in the shelter sans truck (got an M923 a few years back to convert to an M54 but AFV Club remedied that) to put on an M35. The PE grille and such really makes your truck look the part, especially like that 11CAV bumper code.
Cajun
I got leftover shelters so you can have one for the cost of Transatlantic postage
Thanks Cajun. Im beginning to enjoy working with PE (except that Voyager set I tried on the HB C-HET).
Actually they were more common on M35s than 5 ton trucks