I gotta say, whoever painted this did a damned fine job on the cammo.
Hey, this one looks very familiar!

The SF figures from Legend are very nice sculpts and they paint up nicely, which is evident from this particular example as well.
As for the guy selling the figures on eBay, I remember his first figures he offered couple of years ago… those were nowhere near the quality of this one. I guess practice makes perfect, eh?
Mario
Painting 1/35 figures is fun!

The seller did an amazing job.
I have "graduated" to 1/24 and larger figures because after a while, I just find that 1/35 figures are too small to see the details when finished. Now with 3D printing, the same figure can come in multiple larger scales if the vendor actually sells multiple larger scales.
Due to eyesight, I'm not nearly the figure painter I once was. Thankfully I can still shoot!
I may have to purchase that figure. My first attempt at painting OCP on a figure of me leaves something to be desired. I should probably look at my uniform next time and just copy it.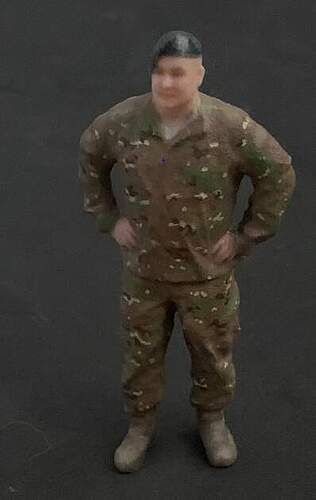 I think your figure is missing a lighter shade of green and there should be more beige and black in the mix, but not a bad first start.

Actually I just need to add light olive, which I didn't take with me when I did that figure. (It was a hotel build during an extended gig) It has the other colors - dark earth, light earth, medium green, dark chocolate brown (there is no black in this scheme) and light sand. I'm waiting to add the last color until I add lead foil pockets, name tape and "I love me badges."