Cool!! Looks interesting.
Ordered on Monday arrived today (Thursday).
A bit more flash on the small parts than shown, however dry fit on major parts is good.
Neil
Um not sure that's right that it wasn't a towed weapon. Certainly not in the format shown, but there was an earlier version that had a shield and proper carriage; it also had a Bren or Browning as the sighting weapon. There was a towing eye bolted around the muzzle and it was drawn barrel first usually by a Landrover or a Champ, probably in air portable battalions. I'm pretty sure I saw them as a kid and the Britains toy replicated this. wombat 120mm anti-tank gun - Bing images
Whilst Wombat could be towed in an emergency or for expediency, it was designed from the outset to be a portee-type weapon, on both the 3/4T Land Rover and the FV 432 to equip the Infantry Battalions' Anti-Tank Platoons - either in Mechanised battalions in BAOR, or in Light Role battalions and Airborne units based in UK (and elsewhere).
Its predecessors dating back to the mid 50s were respectively:
120mm L2 BAT (with gun shield)
L4 Mobat
L7 Conbat
They used Brens and ultimately .50 MGs as spotting rifles. They all had a "proper" road-worthy carriage and were indeed towed by the Austin Champ or Land Rovers; additionally, units based in the Berlin Brigade used the Unimog truck as a towing vehicle; see here - filched from the www: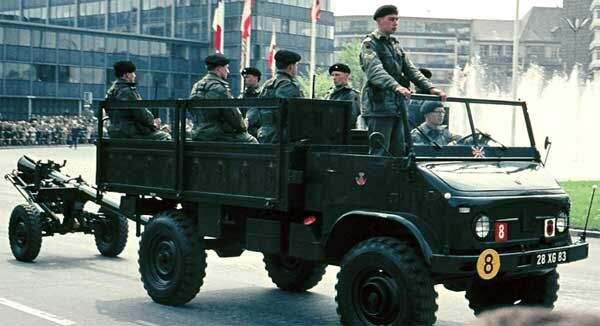 When Wombat came into service the Royal Marines and the Parachute Regiment also operated the gun on the 1/2T Airportable Land Rover; The Marines also utilised the Volvo and Snow-Trac over-snow vehicles as a mount.
The Anti-Tank Platoon would normally consist of 6 x Guns.
Firing Line also produce a Wombat and a Land Rover installation kit in 1:35 but this is currently out of production but annotated as "available again soon" on their website.
Well done Scorpion Miniatures!