Looking for a quality acrylic primer red.
Thanks,
Dan
Mission Models.
Sprays and hand brushes nicely.
Or this one
Thanks, have you used their paints? Did you have any problems airbrushing them?
I think that I did once and used plain tap water to thin it.
Others I know hate their paints with a passion.
I have used them,you need to use their thinner and polymer additive for best results
10-2-2 they recommend
Thanks again.
What are the differences between the two?
Does one have to prime the kit first so the paint will adhere?
I hate to buy more thinner, etc for one bottle of paint.
I've have alot of Tamiya and AK Real paint now.
Yes,its good to prime under acrylics.
Yes,its hard to start with a whole new line,I love AK-Real,they dont have a Red Oxide primer color?
Would Tamiya XF-9 be close enough
I'd go with tamiya. I've heard that mission models can be difficult to work with.
AK Real does not!
Tamiyas hull red is too dark-I guess I could try mixing their flat red with it.
My problem with priming is that it can be hard to get in tight areas with a can. I have Tamiya and Mr Color primer red in a can already, but getting in tight spots can be a challenge.
Thanks
Does Tamiya make a red oxide primer besides their enamel spray can,I couldnt see one?
MM has worked well for me, he mentioned acrylics,you could try Vallejo and Tamiya XF-9 could work.
They do not.
XF-9mis too dark.
I'm looking into decanting either Tamiya's or Mr color's spray colors-which would be a new thing for me.
I've never had any luck spraying Vallejo colors. Again, one would have to spray primer out of a can and if I'm going that route then I'll just use the Tamiya spray primer red.
Thanks again.
On the paint palette a drop or two of Tamiya XF55 Deck Tan could lighten the Tamiya XF9 Hull Red into a more suitable range.
I'll look into that!
Thanks!
I was thinking adding Tamiya's flat red but will give your idea a try.
Ok I tried Tamiya hull red with Tamiya deck tan and I don't think that the way to go as it became more of a "salmon" color.
I thin tried hul red with Tamiya flat red. The color seemed to just get darker.
I then tried flat red and mixed in hull red. That was going somewhere and I think I might work on this some more
Remember that primer red is RED.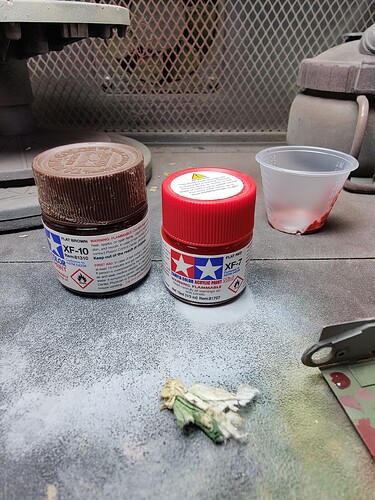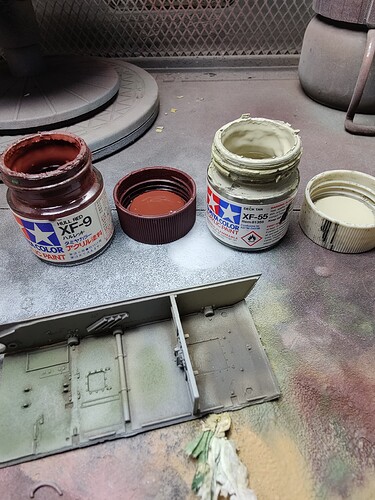 Hull red upper left.
Below that hull red with deck tan.
Below left and right is flat red with hull red added to it.
Getting there. The hard part is to make enough for a kit and have it consistent.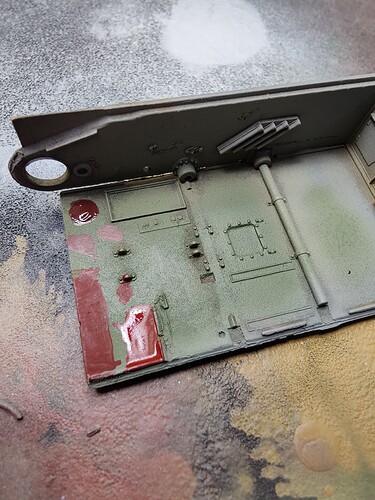 How about Mig 8012 Rotbraun?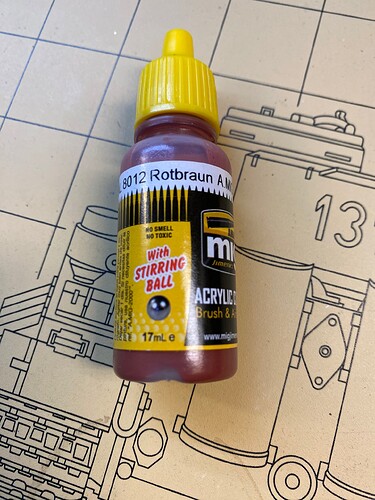 I bought several bottles for a "see through " RFM Panther and then decided I to sell the kit later on.
My one gripe about Mig paints is they take forever to dry and you can't do any surface refinishing (like sanding) unless you clear coat it.
Thanks, does it spray well?
Do I have to prime it first?
I've sprayed Mig paint and without primer. Covers no problem. Use my airbrush w/ .5 needle. I've only ever used it with mig thinner thought so I don't know what it does with others.
Edited to add: I like the color of spray can #2
Gotcha. Salmon sounds good for the gas grill but not so hot for primer.
fwiw, when I was trying to mix up something like this from Tamiya I started with their Flat Brown and kept adding red to it. The flat brown seemed more red brown than the red brown did…