I've been looking around for a 1/35 scale WWII US mechanic figure to go along with a US Diamond T 968 Cargo Truck.
The closest I've been able to come is the MiniArt (35284) 'US Motorcycle Repair Crew (3) w/2 Motorcycles.' These poses could possibly work with a bit of Franken-figuring.
Unfortunately, the kit is a little pricey at $37.49 US since I'll never use the 2 included motorcycles. On the other hand, the toolbox and tools are kinda' nice.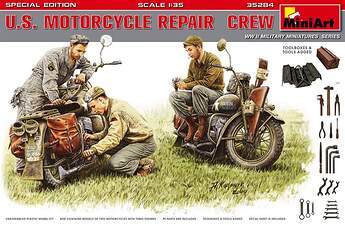 Anybody out there got any other mechanic suggestions? TIA.
Cheers!


—mike