Hello, I recently got a set of Star Decals 35-C1333 for the Initial/Early Tigers of the 502nd Heavy Tank Battalion, and the scheme for Tiger numbered "113" seemed quite interesting.
I managed to find two photos of this tank, and I'm wondering if Star Decals' color scheme interpretation was correct.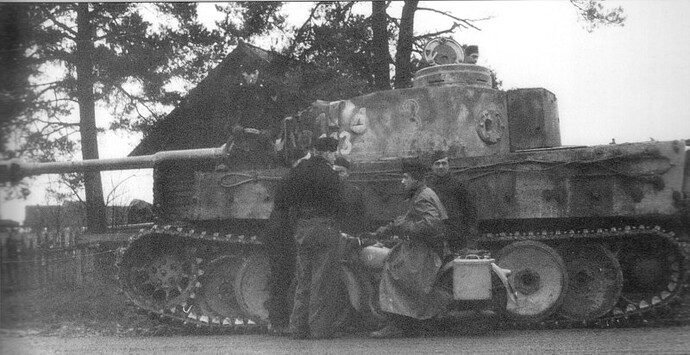 You can clearly see the old tactical numbers 1 and 3 on a dark background, so it would make sense to me that it would have been originally painted in panzer grey, and if this photo was taken in the summer of 1943, it would add up that it had been oversprayed with dunkelgelb at some point. On the second photo it kinda looks like they might have sprayed a brown or green camouflage?
I'm intending to build this tiger using the Tamiya Tiger 1 frühe boxing with Eduard Photoetch and parts from my spares box. I'm wondering if anyone can identify if there's any particular equipment I should be aware of with this particular tiger. Looks like it doesn't have feifel filters, nor S-mine launchers, and only empty brackets for smoke grenade launchers. The storage box on the back of the turret looks like the standard one to me.
I also can't seem to find photos of the 502nd heavy panzer battalion's tanks with the big white numbers included in the Star Decals set.