it's a old project, picture are a bit dark.
I hope you can appreciate this ARV!
Hi smolensk… You did a real nice job on the Legend M74 ARV conversion.
I did a full build review of this conversion on the old forum a few years ago. I don't know if its still listed. I had fun building it and modifying some of the parts to making them movable.
Cheers,
Ralph
Hi Ralph
I build myself the conversion…
the turret is an alluminium ring cutted with a saw and cover with plastic card
the frame was build by evergreen tubes …
Nice job on this model. I have retouched a couple of photos, not sure if colour looks right (flag seems correct) but at least some details can be seen.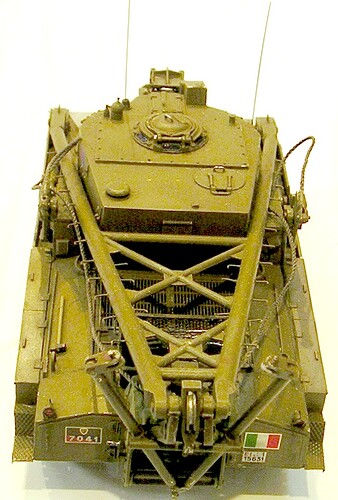 thank you for your support
Looks pretty good. Well done.
Jim
Hi smolensk…Wow , I'm really impressed that you scratch built the conversion.
Cheers,
Ralph
for you


…and a Italeri Sherman with Dragon suspension…