Hmmm…look familiar??..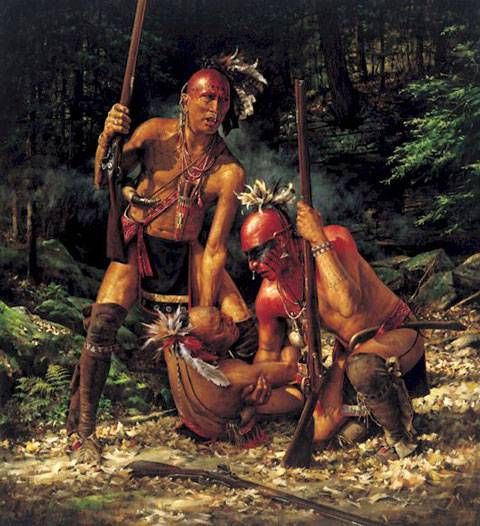 Excellent plastic representation. There are many more paintings for inspiration for MB!

Where is the original painting from? Very interesting observation.
Found a whole bunch of similar paintings (same artist??) on Pinterest while researching 17th, and 18th Cent. North American French and Indian War, etc.

Magua!
This set sure has my interest even though outside my usual build areas.
That's a great collection of paintings.
If you liked that, you will love this; links to further John Buxton paintings, and endless links to other similar artwork:
https://www.google.ca/search?hl=en&tbm=isch&source=hp&biw=1583&bih=737&ei=pO75X-rAAua1ggfO5bCoCw&q=john+Buxton+art+work&oq=john+Buxton+art+work&gs_lcp=CgNpbWcQDDoICAAQsQMQgwE6BQgAELEDOgIIADoECAAQAzoGCAAQCBAeOgQIABAYOgQIABAeUL4RWOheYN-IAWgAcAB4AIABdogBwQySAQQxNy4zmAEAoAEBqgELZ3dzLXdpei1pbWc&sclient=img&ved=0ahUKEwjqovrMto_uAhXmmuAKHc4yDLUQ4dUDCAc
Enjoy!!