Feldwebel Max Arnold's Drive Through
'Visit him at the golden arches when you're hungry and the war won't wait!'
Fourteen years ago, I finished this diorama and posted it to the old Armorama site. It received a lot of positive feedback, primarily due to the clever concept and presentation. That was my goal – a little humor…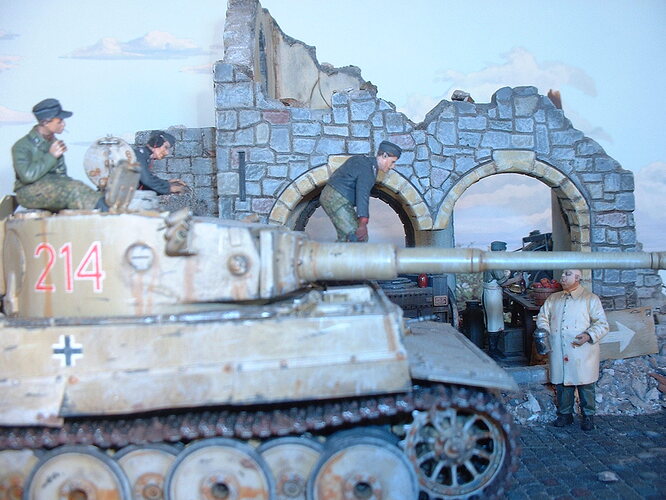 The poor old diorama has been sitting on my shelf ever since – collecting dust and screaming for attention.
Usually, around my hobby room, something this old gets cannibalized and then deposited in the trash, to make room for more recent, and frankly better products.
Looking at it (for the hundredth time) I decided that rather than destroy it, I'd recondition it. The Tiger, in particular, was not up to today's standards, either mine or the groups. Nor were the figures, although the old Warriors poses were quite good.
So, I decided to update it with a new Tiger, and assorted other upgrades. Including repainting the famous feldwebel, himself. With a few other touches, I now present you with:
Max Arnold's Drive Through, version 2.0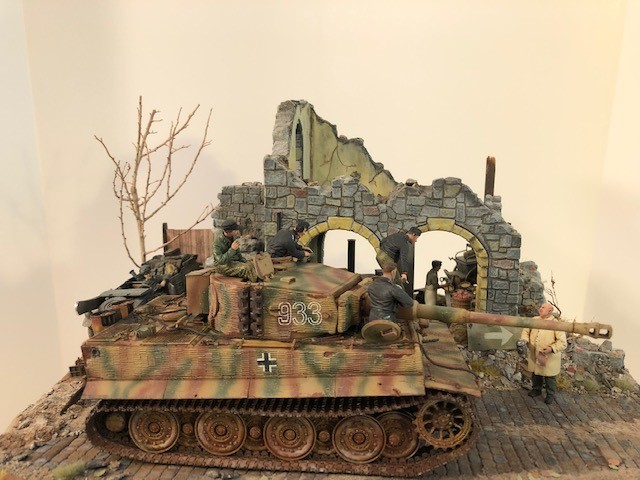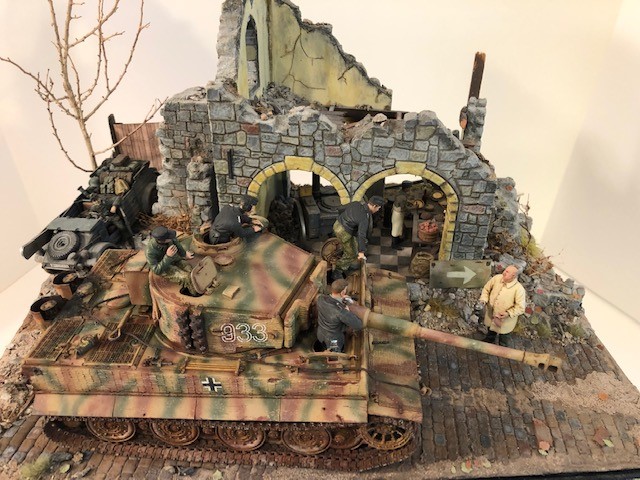 Comparing to period, Black & White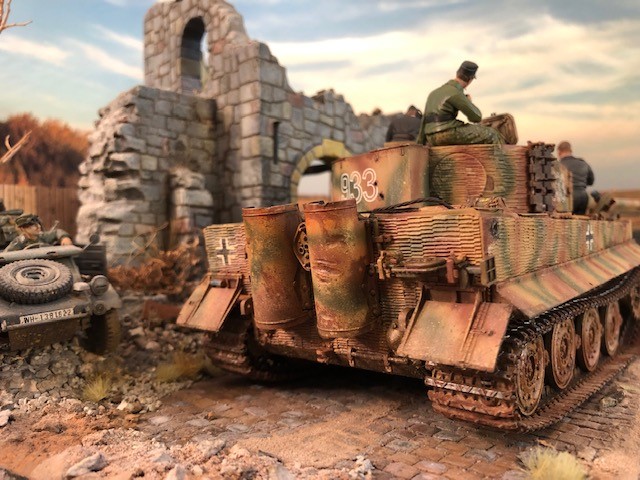 The new, replacement Tiger is the Dragon, late production with Zimmerit. I think the Zim is molded a little heavy-handedly (not to scale) but I wanted to check the kit out.
With it, I took the big step (for me) of buying a metal track set, my first ever. I have used aftermarket, plastic tracks before – they're much less expensive, but I decided to fork out the $70 for the 'Warp United' tracks available on Amazon. Despite the painful expense, I was impressed. Assembly, although typically tedious, went well. The track pins are two-part and brass – nice. I found that there is something weirdly satisfying about handling real, flexible metal treads. Of course, then I also had to buy Burnishing Fluid (AK).
It was a pleasure to not have to play the games with Magic Tracks or even 'link and length'.
I did have a bit of trouble with the burnishing process. I cleaned the tracks with acetone before dipping them in a solution of the fluid (around 60%) and water (around 40%). I only left them in for a minute or two. When I removed them they were very dark brown. Not bad, but not what I expected. With my normal track-weathering process they seemed to come out just fine.
All in all, I found it a fun experience, but I'm still not pleased with the cost. It just doesn't seem right to spend more on the tracks than on the kit, itself.
Martin (Uncle Night Shift) describes tracks as the 'crowning jewels of the tank' and he may be right…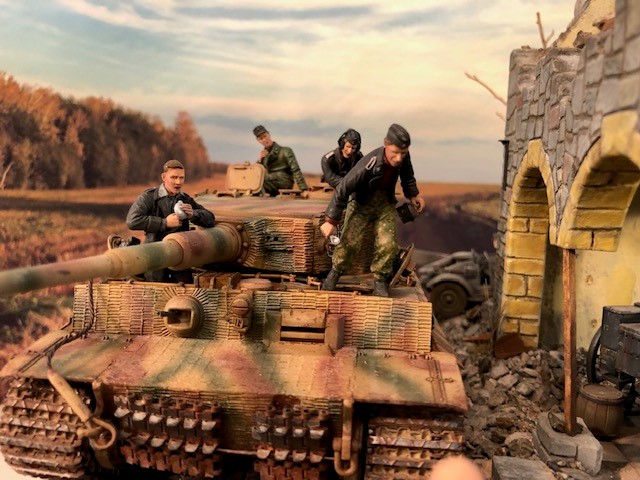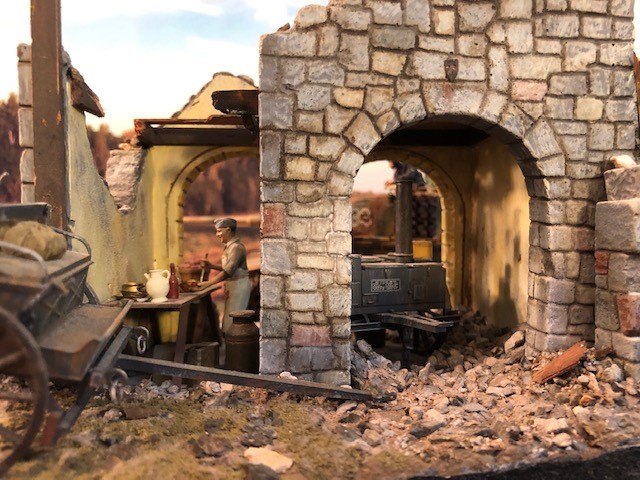 The backside - Kitchen

Comparing to period, Black & White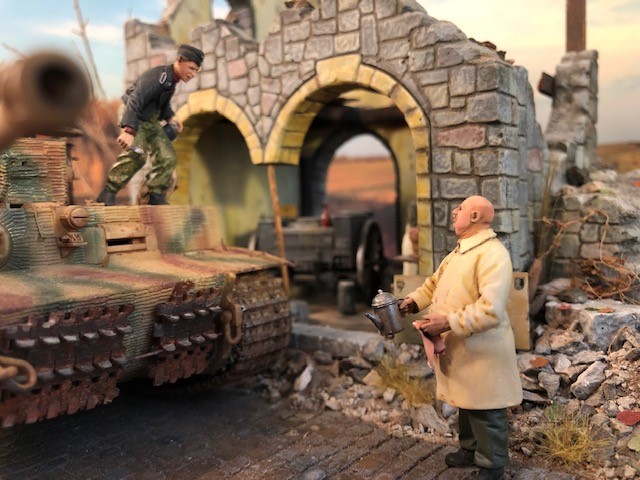 I retained three of the original crew figures from Warriors, and rather than strip them and start from scratch, I touched up their paint job, particularly their faces, and replaced the hands on the driver. The radioman, drinking from his canteen is an addition, painted from scratch.
The original Tamiya Field Kitchen and Kubel are still in place. And, the original structure is little changed. It came from a pair of old Verlinden's Ruined Castles (or was it 'Custom Dioramics'?)
Hope you enjoy this one, and hopefully get a laugh out of the concept.
It was fun to revisit and rework it – a different kind of challenge. You might consider trying it on one of your older projects.
Ralph