Lots of "Military Scale" Wartime Railroad Modeling in 1/35th, currently going on over in the "Railroad Modeling" segment of Armorama.
I feel the Railroad portion of today's Military Scale modeling sort of gets lost in the necessary separation that has to exist between Armor modeling and Railroad modeling.
I would very much like to encourage all armor modelers to take a trip on the "Rail Side"!
Photos shown here are samples of what you will see "Over There!"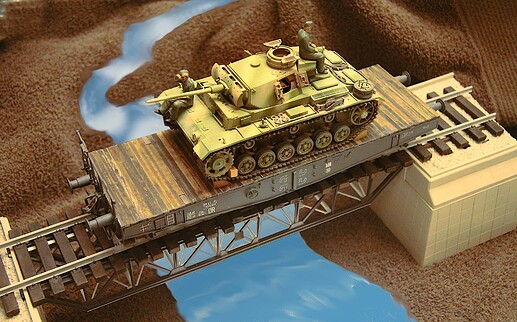 Photo and models by Mike Koenig
.
This post is intended simply as a traffic builder for the Railroad Modeling portion of the Armorama site as I feel a lot of Armor Modelers might be missing out.
.
Please Note: I have pulled all the photos below from the Railroad Modeling pages of Armorama without the permission of the authors, so if any of these Gentlemen would prefer to be removed from this thread they have only to ask.