(The following is a repost from last year on Aeroscale posted here as a test topic)
Minicraft P-51D Mustang 1/144 build – Started July 26, 2019 for The Mighty Eighth campaign on Aeroscale

I've always loved the P-51D Mustang !
This one is the diminutive 1/144 scale bird from Minicraft. This 2018 release is actually a reissue of the 1974 Crown kit, which has been sold variously over the years by Revell, Academy, Trumpeter, Mini Hobby Models, and now Minicraft Models. This little beauty has certainly been around! Minicraft has added some value, though, with a new clear display stand, a pre-painted canopy, and some excellent Cartograf decals.
The small size, low parts count, and pre-painted canopy should make this a fast build.
---
The little Mustang's outline is accurate and the model goes together with a minimum of fuss, but small size means a number of simplifications. One of these is the cockpit, which is just a flat recessed area completely devoid of detail. To address this, Minicraft took the unusual approach of including a decal to represent the interior.
Placed over a green & black painted cockpit tub, the decal is surprisingly effective – especially under the thick canopy.
---
The old girl's panel lines are surprisingly sharp for a kit of the 1970s. She's not perfect, though.
The intercooler and rectangular coolant matrix were just square depressions in the lower fuselage halves; I made simple sheet plastic improvements.

The wheels-up configuration leaves some nice extra parts…
---
The assembled Mustang now has its coat of Tamiya rattle-can AS-12 Bare Metal Silver.
A really cool feature of this 2018 Minicraft release is an optional pre-painted canopy. Unfortunately, I rubbed off some of the paint while blending the windscreen with the fuselage, so I still ended up masking and painting it along with the rest of the aircraft.
---
The kit came with decals for two different USAAF Mustangs, but I opted instead to use aftermarket markings from Draw Decal.
The model will depict "Twilight Tear," an aircraft of the 8th Air Force's 78th Fighter Group, 83rd Fighter Squadron flown by 1st Lieutenant Hubert Davis out of Duxford, England, in 1945.
---
The Draw Decal markings look great – can't wait to try them out!
After the initial silver, I applied Tamiya rattle-can AS-6 Olive Drab USAAF for the anti-glare panel followed by red wingtips and a white spinner.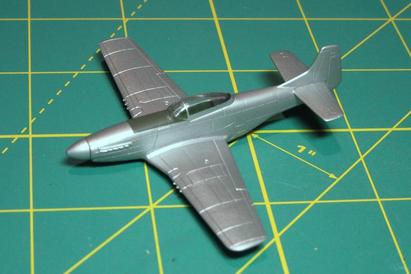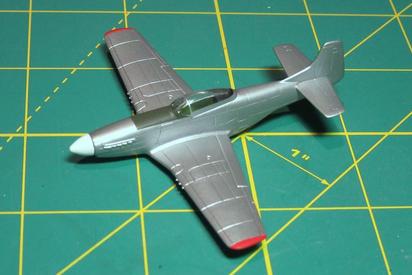 With the application of the decals, a radio mast, and the finished spinner, P-51D Mustang "Twilight Tear" (named after the 1944 Racehorse of the Year) is complete!