I'm constantly rearranging my workspace trying to find the optimum/most efficient layout for all the clutter.
The Tamiya paints now has a plastic container that they sit in now.
Using "very small" as the main criterion, I'd suggest this one from Craftsman. It has a shelf underneath that's perfect for storing kits. It'll hold the weight of a Sportster motor, so it's very sturdy:
The drawback is that it may be pricey for some, and far sturdier than necessary for modeling.
In that case you can build your own. I am almost as adept at manipulating molten metal as I am gluing bits of styrene together, so it was a pretty simple affair. One inch square tubing is available at any Ace Hardware or similar store.
This doubles as a foot stool and a miniature reloading station during football games. I have done modeling projects on it as well:
Once the top gets too boogered up you can simply replace it:
And if course the whole thing is portable - you could put a hotel modeling tool set in the box - compressor, Dremel, tools and supplies, or in this case everything necessary to reload four different calibers. I even enlarged the hole on the metal handle to serve as a beer opener.
If bending over to work while watching NetFlix isn't your thing you can graduate up to the next larger size - again just a few dollars to make, other than the granite. Of course two 2x8's are a perfect replacement. Armrest height is little more conducive for modeling. I like it because the granite is extremely flat and good for wet sanding.
Then there's the granddaddy of homemade workbenches - just right for regular dining room chairs and has a shelf. Top can once again be made from wood as well:
If welding isn't your thing you can do the last one using one inch PVC pipe and T fittings. With a few more fittings you can make a shelf as well. The whole thing can even be only partially glued together, so that you can disassemble it for travel. The one I did is at the in-laws, so no photo, but I'm sure anyone can come up with their own design.
Ah, I forgot the most important thing - when not being used for modeling, you can actually use them as end tables!
Ah, one more that I got from Harbor Freight:
I sort of keep it hidden because it looks much like Einstein's desk the day before he died…
When it's cleared of projects it's actually a nice little piece of furniture. Matches the wooden floors and all, which is important if you want to keep the wife happy.
Hey guys. Thanks for all the recommendations. Each one very good points and sound advice. I realized I had a desk that would work perfectly. My computer desk. I moved everything off to another location and set it up accordingly. Nice modelers tools/paint and accessory rack. Low from that had adequate space. good lighting. I couldn't be happier.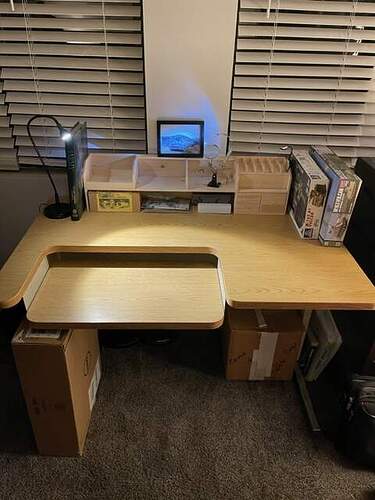 My only problem with those Harbor Freight workbench kits is they tend to be top heavy.
I have one in the garage. I added a couple of thick decking planks to the lower shelf and store heavy spools of wire there to keep it steady. If the wall wasn't old very hard cement I'd have bolted a back apron to it. Too much drilling to bother with.
I like mine because it can double as a bar when necessary. or even an additional dining table when we have a lot of people over. I keep the barstools hidden away until they're necessary. For the price I found it to be very nice as far as the quality of the wood. As you know it's not particle board like most other crap.
As for the OP's solution, I can remember getting rid of three of those computer table in the past twenty-two years. When he said "for very small spaces" that's not exactly what I had in mind. I know that the last one had wheels on it, but I found all of them to be cumbersome and too large for my tastes. And that little lifting table had a tendency to warp. I hated to get rid of them as I love to repurpose things, but they just didn't do it for me. Maybe if I had a separate room to hide it away, but I already have a workbench like that - underneath the loft in my son's old room. Come to think of it, I did repurpose the last one, and used part of it underneath the loft. I'll post photos later.