Basically back in my High School days I wasn't much into drag racing, but got hooked on road racing both here in the states and in Europe when I bought my 1st copies of Road & Track, and Car & Driver magazines in 1963. Each had a section on road racing, so I got to follow F1 and Sport cars racing even though they were usually a good 3 months behind the actual event. Still, it was better then nothing.
By 1965 the 427ci Cobras were the kings of the Endurance Racing and Sport Car circuits. More then once I concocted all sorts of schemes to convince my father to let me buy a Cobra with my life savings. And more then once Dad just said NO!!. So I never did get one, but I still dreamed of driving one at the Bridgehampton time trials, and SCCA Solo events like I did with my MGB.
I managed to get a job working part time at Rascal Racing and being on their pit crew when needed, which wasn't very often. But the retail part of the shop often got in some pretty exocytic sports cars, and the owner of Port Washington Motor shop owned a 1965 427 Cobra. While I never got to actually drive the car, Peter would take me for rides every so often. Let me tell you when he drove the Cobra Flat out, it was like nothing I've ever experienced. And thus I had the actual car of my dreams to ride in. Way better then just staring at pictures in a magazine.
So my 1st build for our GB is the old Monogram 1/24 scale Essex Wire 427 kit, rather then their S/C kit as that's the kit I have in my stash.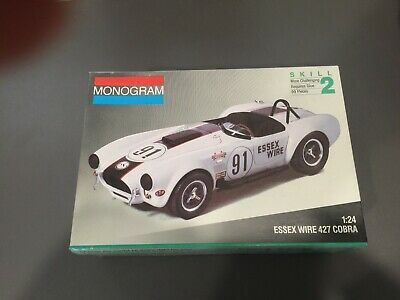 Yesterday I spent several hours focusing my attention on the body shell and hood, which will be able to open & close to see the big block Ford 427 engine. There's quite a bit of flash that needed to be dealt with, and some major mold seams line on both sides of the body.
The carb intake scoop also seemed rather thick:
So out came the files and sand paper, and I thinned it down. Final clean up is still needed in this close up picture.
Next up was priming both the hood and the body with Gunze #1500 light Gray primer thinner 2:3 with their #400 Leveler Thinner.
Today I rubbed out the primer with Tamiya #3000 sponge and it's super smooth. I was going to air brush on the color coat, but it decided to rain today. I really don't like air brushing when it's raining unless the A/C is on, which it's not this time of year. So it will have to wait for another day.
The paint of choice is Gravity's GC-215 Ford Guardsman Blue, which was one of the factory color options for 1965.
Joel