Rye field includes the dust pan diverter on sprue C, part 22 but not a snorkel would be nice from Rye Field.
The Meng USMC M1A1 includes a snorkel kit.
For aftermarket you have
I wonder when it's going to be released though ?
My guess is Q2 2023 judging from RFM's announcememt to release history.
except I got rid of mine. I'm getting two kits
gary
Looks like a bit of a wait then … I may start my RFM M1A2 SEP2 as a practice run to get in the M1 zone …
Given HLJ would like to charge me more than $100 Australian, I sure hope it's a complete M1A1 kit
HLJ is always expensive. HobbyEasy has it for $67.55 AUS.
You should clarify that by saying that HLJ (and Hobby Search) are always expensive on non-Japanese produced products. It's simply because of the import taxes they need to pay, particularly it seems on products produced in China (as opposed to those produced in Europe). For Japanese produced products like Tamiya, HLJ are similar in price (or cheaper) then most other places.
Thanks mate. Good to know
$59.99 plus shipping at Andy's right now.
Nice. I've ordered mine from eBay a couple of weeks ago for about 60 USD, and it just arrived at the port. I should have it mid-week next week.
James Lee can I ask who you went thru to see if it is the guy I got my AH-64's from. thanks
It's Auroramodelshop in China. They also operate Sunlightmodelstore.
Received the kit in the mail today. Super excited then the excitement quickly turned into disappointment when I realized Sprue Q was missing.


The kit looks good - existing M1 sprues from RFM then 3 new sprues for USMC-specific Abrams.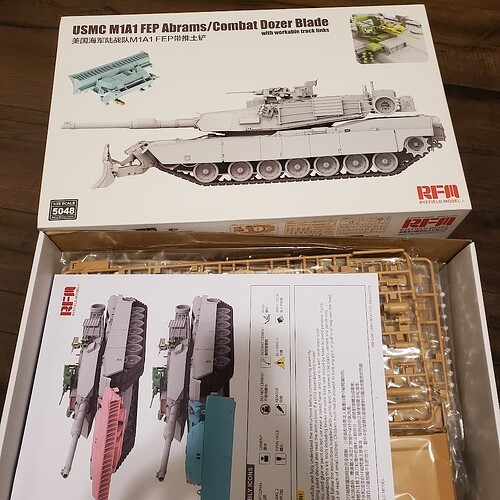 Hope that gets replaced … ? Will it be a simple email fix to get a replacement ?
@James_Lee, good to see you check all your sprues. I order an expensive 1/32 aircraft kit and only to realize (couple of years after) that it was missing clear parts and the kit was discontinued. It took me long time to find replacement parts via eBay search. So, I made a rule to check all my kits when I purchase them right away.