Kind of a dumb landmark occaision but this is the first time I recall useing a bottle of paint til it was empty, usually they get syrupy in between uses and enamels get grainy when thinned once their shelf life has expired . . .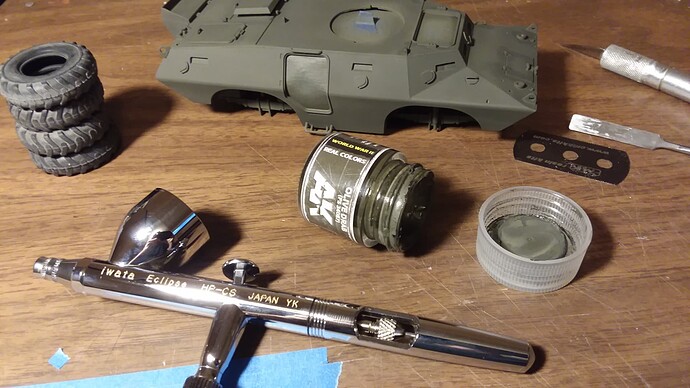 . . since switching over to AK REAL COLOR laquers I've been experimenting with the paint trying to learn how to work with it, such as dry brushing, washes and hand brushing . .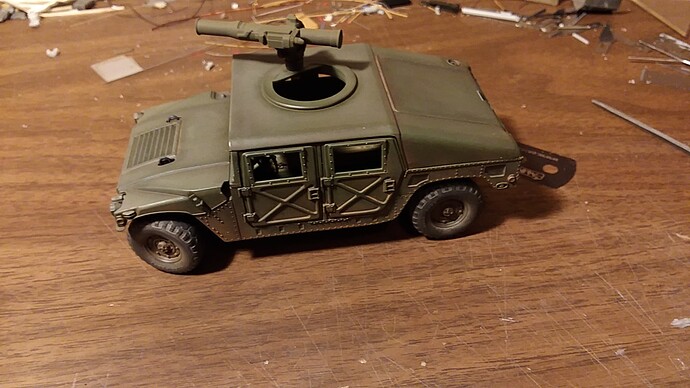 . . . the Commando up top was the fourth full model kit to spray out of this bottle and I have to say, I don't know if it's the paint or the Iwata AB but it sprays on beautifully, had an issue once because I didn't thin it quite enuff.
The HUMVEE is the guinea pig for weathering and what I've learned is how laquer paint reacts to dfferent thinning agents, for example . . .
Isopropyl alcohol makes it frost, an intresting dynamic if you want a sun baked finish on an AFV that has that chalky white oxyidation on the surface.
Hand brushing is less than favorable straight from the bottle, it doesn't want to level out leaving a noticeable brush streak.
Thinned with laquer thinner to make it level out is scary, it either goes down too thin and doesn't cover, or if painting on top of another color or primer the laquer will solve the under coat and then you've got a real mess.
Thinned with acetone works rather nicely but don't push it or the undercoat will come up.
The finish on the Humvee is the result of several attempts/applications of laquer on an enamel "dark green" base coat, thinned with alcohol, drybrushed with thinner, chalked, and finally just sprayed with thinner used to spray out the AB.
Well still learning, I've also started playing around with artists oils to make wahes, the M706 interior was the test bed for that experiment and it turned out okay when applied on a clear coated base coat, never had to go through all this with enamel paint but the mineral spirits thinner is just more than I can take nowdays.
Anyway, that's what I've come up with. It's an old dawg learning some new ways.
Cajun