I find that armorama forum is loaded, and this one kind of empty, so I decided to post something here.
This is my 1st head painting: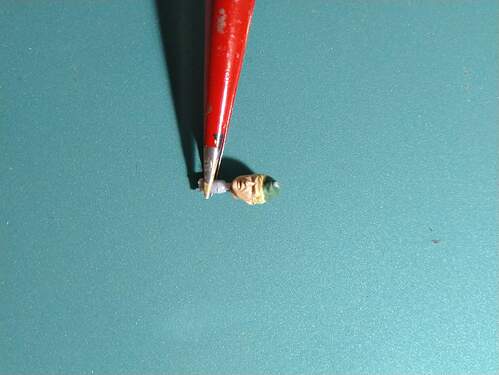 How is it?
I used an assortment of enamel and water acrylic, and I made it fall on the floor once while the paint was yet to dry…
Edit: I have some question that I want to ask here right the way.
I original planed to use Humbrol 61 flesh matte, but that store is closed and no one use it nowadays so I resorted to some gundam model store with equivalent color. The base flesh I used is the Mr Hobby aqueous, semi-gloss instead of matte. The semi-gloss finish is quite reflective on where ever the highlight should be, and clear shadow where the shadow needed to be. It gives me a hard time to follow online guides, where most used matte base. After a few adjustments, I used a very thin enamel shadow tint (like more than 50% mineral spirit) all over the skin, which reduced the reflection and give a more even shadow.
Can I have any suggestion to improve and adapt? Thanks.