ATLAS has several N arrivals forthcoming.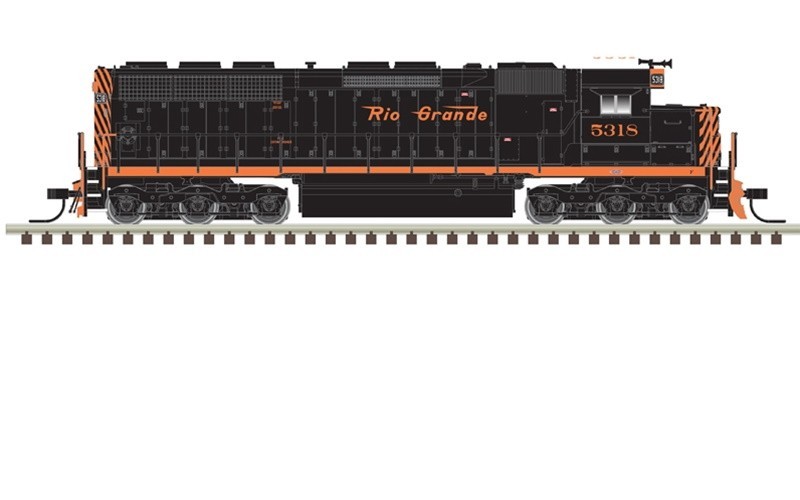 ---
This is partial text from the full article (usually with photos) at
https://railroadmodeling.net/news/n-scale-rolling-stock-inbound
N SD45 Locomotive
During the 1960s the demand for high HP locomotives drove EMD and competitor GE to continue to push the limits of locomotive design. During the time when 3,000 HP 16-cylinder prime movers were the norm, EMD made the decision to introduce a 20-cylinder, 3600 HP design. Introduced in 1965, the SD45, with its distinctive flared radiator design, was purchased by many major US railroads, totaling over 1,200 units until the SD45-2 replaced it in the EMD catalog in 1972.
The SD45 did have some teething problems, most notably crankshaft failures. EMD did provide a means to remedy this issue, but some railroads chose to derate the SD45 to 3,000 HP, or in some cases replace the prime mover with the 16-cylinder 3,000 HP as utilized in the SD40-2. Most railroads decided that the extra 600 HP was pushing the limits of the 645 prime mover and preferred the reliability of the 16-cylinder design. The SD40-2 proved to be the best choice for many railroads. It would take a new design, the 710 series prime mover first featured in the SD50, for EMD to reach past 3,000 HP once again.
Many units are still in service today, most being rebuilt as mentioned. Some did retain the stock 20-cylinder prime mover, a beefed-up engine block mitigated crankshaft failures. Quite a few examples exist in museums, proving that despite some problems the EMD SD45 remains a popular locomotive.
The Atlas N Scale SD45 is an accurate rendition of the EMD design, matching many of the variations as seen during the production of the prototype locomotive.
The guaranteed order deadline is January 18, 2023. Click here to find an Authorized Atlas Dealer near you.
Features Include:
All new tooling

Golden-white LEDs

Painted safety rails

Directional lighting

Blackened metal wheels

Magnetic knuckle couplers

Atlas Master® Gold version features Soundtraxx Tsunami Decoder

Silver Sound Ready (equipped with speaker for easy conversion to DCC sound) Atlas Master Series Gold Features:

Soundtraxx Tsunami Decoder equipped
Atlas Master® Series Silver Additional Features:
NMRA 21-pin plug for DCC (Decoder-ready)
H15/16-44 Locomotives

In the late 1940s, the design team at Fairbanks-Morse (FM) set out to develop an 8-cylinder 1,500-horsepower all-purpose road switcher using their opposed-piston diesel engine design. By September 1947 FM had produced the first H15-44 locomotive in the form of Demonstrator "FM 1500". The hood-unit style body included distinctive features such as slightly sloped ends, rounded corners, oval cab-side windows and a raised, rounded headlight base on each end.
The first purchaser of the H15-44 was Monon, who quickly bought both the demonstrator and the second unit built in December 1947. Three units were then built for Rio Grande before additional demonstrators were produced later in 1948. Before production ended in mid-1949, a total of 35 units had been built, with Jersey Central owning the most units (14 total).
By 1950 other builders had increased the horsepower of their competing road switchers, and FM responded with the 8-cylinder 1,600-horsepower H16-44 model. The earliest units were externally very similar to the previous H15-44. MKT 1591 was initially ordered as an H15-44, but was upgraded to 1,600hp during production.
The first true production H16-44s were ordered by Jersey Central. Several large railroads purchased this model, including Santa Fe, New York Central, Southern and Pennsylvania. A total of 99 units would be produced before production of the "phase I" version ended in December 1952. FM continued to produce H16-44s with phase II and III body styles through 1963.
Our model represents the "phase I" body style of both the H15-44 and H16-44 that was produced between 1947 and 1952. Options include FM or AAR truck side frames, high or low-mounted headlights, early or late-production phase 1 hoods and a removable fuel tank skirt.
The guaranteed order deadline is January 18, 2023. Click here to find an Authorized Atlas Dealer near you.
Features Include:
Bi-directional red and green LED classification lights

Scale Speed™ motor

Factory-equipped with AccuMate® knuckle couplers

Painted safety rails

Blackened metal wheels

Golden-white LED headlights
Atlas Master® Series Silver Additional Features:
NMRA 21-pin plug for DCC (Decoder-ready) Atlas Master Series Gold Features:

ESU LokSound decoder, supporting all DCC programming modes.

Flexible mapping of function keys F0 to F31.

Follows all NMRA DCC standards and recommended practices.

Over 20 sound effects are available, including engine start-up and shutdown, prime mover sounds through all eight notches, bell, air horn, air compressor and more.
Coalveyor Bathtub Gondola
Built in the 1980's by ACF®, the Coalveyor Bathtub Gondola operated in unit train service to deliver coal to power plants. These cars were most often lettered for the utility companies that leased and purchased them. Many are still in service today.
C&D cars were usually run in blocks of 4-12 cars. They were used for construction and demolition debris/refuse hauling.
Features Include:
Die-cast chassis
Ready-to-run
Interior bracing
Removable coal load * AccuMate® couplers
Brake detail
100-ton roller-bearing trucks
Accurate painting and printing
HO & N 1978 Ford Fairmont Sedan
The Ford Fairmont was an rear wheel drive compact car introduced in 1978 and sold through 1983 in North America.
As the first vehicle built off the Ford Fox platform, the 1978 Ford Fairmont replaced the Ford Maverick. This platform would serve as the foundation for several other models such as the Thunderbird, the 1981-82 American Ford Granada and the 1979-2004 Mustang.
Three body styles were introduced with the release of the Fairmont–coupe, sedan, and wagon. The 1978 Fairmont set the record for production of a new model, defeating the record that was previously held by the 1965 Mustang, making it quite the rousing success for Ford. The Fairmont was an efficient combination of passenger room and cargo space for its size, garnering praise in the automotive media and drawing comparisions with competing Volvo and BMW models.
At its introduction, the Fairmont was equipped with two headlights, though this was later remedied in 1981 where the number was upped to four. A variety of engines were available, including a 2.3 L four-cylinder, 3.3 L (200 cu in) six, and 255 cu in and 302 cu in V8s. A turbocharged four-cylinder version was planned for 1980 but never made it to production.
Coming in a range of prototypical colors, these vehicles will look right at home parked in front of our garage kits, out on the streets of your layout, or, for layouts based in late 1977 or 1978, as loads on open auto racks.
These models are officially licensed by the Ford Motor Company®.
Ford Trademarks and Trade Dress used under license to Atlas Model Railroad Co., Inc.
Features Include:
Side view mirror
Head and tail light glazing
Interior detail * Simulated rubber tires
Under carriage detail
HO MSRP: $22.95 N 2-Pack MSRP: $29.95