That is so cool. Thanks for posting.
Some live steam that I'm very interested in is the 1/32 Number One Gauge. I've seen a video or two of these things, one of them was a man with a raised single track running around his backyard. Train ran well through snow, too. Marklin makes some No.1 steam locomotives that put out quite a bit of vapor, but I'm not sure if they were live steam or had a smoke tablet stuck down the stack.
Checkout this post on F Scale I just launched; These are available as either live steam or electric!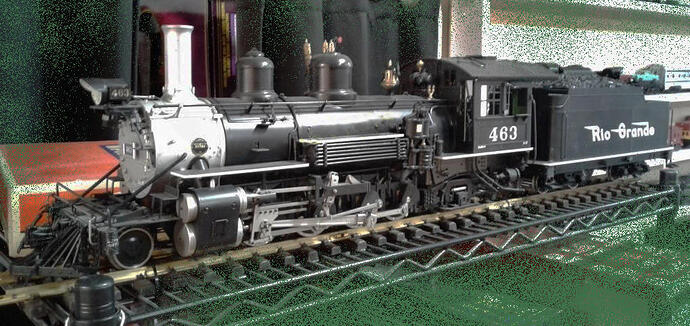 Not directly related to live steam but here is this beautiful Bachmann/Spectrum F Scale D&RGW Caboose that is sometimes pulled by F scale live steam. This one just rolled into the shop, WITH full detailed and lighted interior!
The full retail on this is under $275 and I honestly don't understand how they can sell it even that low. Appearly the everyday price on this giant beauty is much lower than that. WOW! Perhaps this is the only bargain left in the entire world!
Wow? I would like one of those. It would make a great display piece, as well as something I could look into and pretend I was a real train man. I wonder if they make an undecorated version? I don't see any hardware along the bolsters that would prevent me from putting standard gauge trucks on it. Do you? Was that Caboose design unique to the Rio Grande? It looks like a good stand-in for many Caboose designs of the era.
It was (I believe) a home road build and the "look", size, proportions and style is/was probably unique to the Rio Grande.
Fred ~ I doubt it would translate well into standard gauge ~ being too narrow, too short and too low.
Well fiddlesticks. It was a thought. I have to decide if any of my freelance railroads are Narrow Gauge or not. I know of some that are dual gauge in areas. My transcon offers a lot of opportunities for subsidiaries in the mountains out west. I have played with the idea having at least one be Narrow Gauge somewhere, just haven't formulated the concept yet. Maybe from Granite Reef Dam to Payson Arizona? Or up along the Verde River. I thought of that one. The other railroads in that area were almost all standard gauge though.
On my "tomorrow" list, I'm planning to detail the interior of a caboose with an old Suydam caboose interior set.