Originally released in early 2016, this RZM photo reference book sold out in six months and is now available again.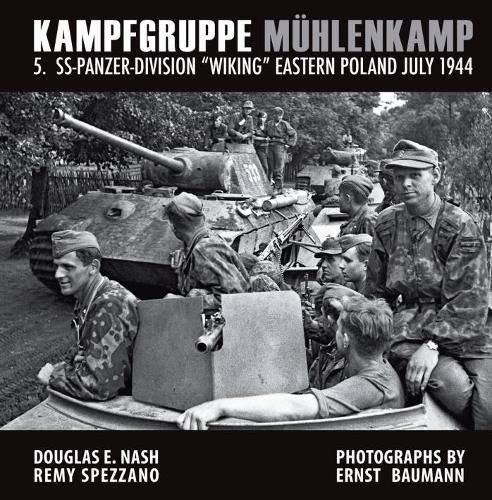 Kampfgruppe Mühlenkamp presents a sequential series of photos taken by Waffen-SS war correspondent Ernst Baumann in Eastern Poland during a two week period in July 1944. At this time the 5. SS-Panzer Division "Wiking" was engaged in counter-attacks against Soviet armored and cavalry forces following their crushing defeat of Army Group Center in Belarus during the Red Army's "Operation Bagration" summer offensive.
These stunning images of the Waffen-SS "Wiking" Division and "Germania" Regiment in action were scanned from the actual negatives and digitally enhanced and enlarged to bring out a previously unseen level of detail. Together with thoroughly researched text and captions as well as four military maps, the photos are shown in their proper sequence and matched with the dates and locations of the various engagements as they unfolded. The names of the officers appearing in the photos, and the troops, vehicles and weapons of the units under their command are documented in the accompanying narrative of the events which comprised the counterattacks at Kamieniec-Litevski and the relief of Grenadier-Bataillon z.b.V. 560 on 22 July 1944.
Hardcover, large format,12" x 12", 192 pages with136 B & W photos taken by Ernst Baumann and 4 tactical maps.
In addition to reprinting the book there are also two limited edition items. The first one is the book with a custom made Waffen-SS Oak leaf camouflage slipcase. The second one is for the collectors who like the signed and numbered editions.
Available from RZM here: