Scorpion Miniature Models posted info on their latest release. Check it out on Armorama homepage: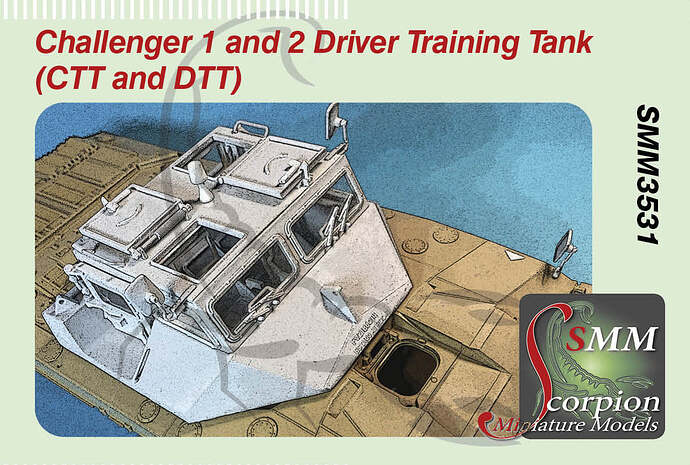 Mario
This is really cool news! It's all these odd vehicles that makes it interesting.
Tanks are produced in large numbers but the oddballs are more interesting.
Time to go shopping again …
I agree, its nice and SMM do some nice conversions for CVRT as well, but the price may put a few people off at £42 with that on top of a base kit for say £30, it soon mounts up… there is a place in Wales, I think it is called BadgerDragon or the other way round, I think I have seen one they do which looks ok as well, and I think cheaper ?? SMM does look very detailed though.
Dragon Badger is a lot cheaper but so is their product if you look at it carefull. The printing is simply awful and the general proportions of the kit are way out with very simplified detailing.
Yes, I agree it is basic compared with the Scorpion offering. I just couldn't justify splashing out on a extra £42 to do a DTT/CTT… It would be a great build, but out of my price bracket sadly. I wonder how much fettling and scratching you'd have to do to bring the dragon one up a few levels ? I hope someone does one of the kits as I've not seen one done yet.
The detail on the Scorpion rendition does indeed look 100% better for detail and there are alot of nice little touches with the smaller details like the crew boxes and control panels. I would say this would without doubt be the go to kit to get if you wanted to do a DTT …which I now may well do in the future… And I'm sure people will appreciate the price drop that's been made.
The images make it pretty clear which conversion is superior in terms of quality.
Mario
Thanks for posting that close up pic of the dragon badger offering @Michael_Shackleton , the detailing (triangular lifting eyes as opposed to rounded etc) and finish looks very poor …it looks like it's made out of wood !!. I think that close up pic when compared to the detailed break down of the parts and images you see of the Scorpion rendition confirm that the SMM one wins hands down for accuracy. It should be the obvious conversation people go for on this evidence.
It was 3D printed. Some manufacturers will 3D print the resin mold then clean that up before casting. Depending on 3D material that is not an easy task.
As far as I can tell from their website, this manufacturer sells 3D printed parts without cleaning it and making a master for resin casting.
Mario
I think the care and quality control is very apparent in the finished item. Clean, crisp and very well detailed. It seems obvious now with the detailed images that the SSM version is a straight, very small if any touch up, then fit and paint. The other is s monumental amount of time consuming clean up and and detailed scratch building to get up to a half decent level. And I know, sometimes it really is worth paying that bit extra for a good piece of kit for realism. The other items mainly of CVRT interest to me that SMM also look first rate. I intend doing a Scimitar ESpire version we used in Bosnia to go with my Striker and the sights SMM have will be what I go for. I wish someone would a few more CVRT variants in plastic… Wishful thinking lol.