I know there are many enamel weathering products available from manufacturers such as AK, MIG, Vallejo, etc. Tamiya and Testor also offer a range of enamel paints. After using AK acrylic wash and filtering fluids for my models, I am thinking using oil paints, which allow me to customize the color and tones to fit the model better than ready-to-use product.
However, my first trail seems not that successful. Here is the sample:
Here is the half of a T-34/76 turret. There is nothing to see in the turret interior other than a gun breech. So I use that to test the oil paint.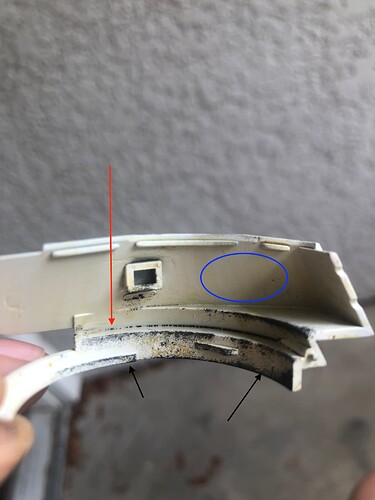 The black arrows indicated the black steel chipping applied on the turret ring, which is NOT by oil paints. The inner surface of turret wall (blue circle) I applied the home-made filtering fluid, which is normal. However, when I apply wash fluid to the corner (red arrow). I found the paint particles are too big. Those particles separates from each other and could not form a solid line.
I try to increase the concentration, or change to a different type of enamel thinner. Nothing help. If I just apply more fluid, the line will be very rough and uneven.
Here is the result:

For something like turret it is sort of OK, but definitely a disaster for aircrafts.
This shows better: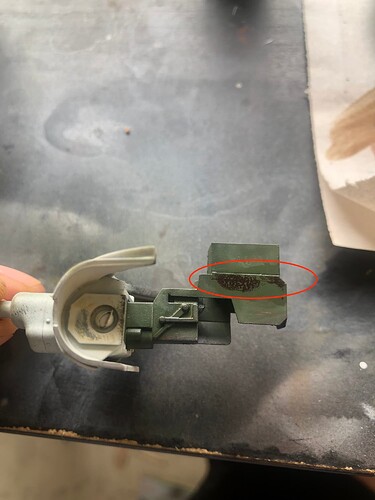 So I guess the different oil paints may have different particle sizes? I notices the black paint is a 12ml tubes from a Winsor Newton starter kit. I assume this is the low-end product so the quality is not as good as the high-end one? The filtering fluid I used Winsor Newton Raw Sienna and Azo Brown, 37-ml tubes which I brought separately from local Michaels.
I also did a research and found the black paint (Ivory Black) are "Opaque" paint while both paints in the filter are "semi transparent" to "transparent". Is that the issue?
Please share your opinion. Shall I bought a high-end black oil paint for pin-wash?
Thanks