Evening all!
Well, it seems that I've been bitten by the resin printing bug. A few days ago, some poor financial decisions were made and I ended up with a Creality Halot One SLA printer, and a UW-01 washing and curing station.
Safety is a top priority! The wrap you see over the resin printer is to allow fumes to be better sucked out by my exhaust duct.
So far, I've enthusiastically tried, oh, five or so prints that failed utterly. However, after messing around with the Lychee slicer software and going absolutely bonkers with supports, I've had a successful print of a Canadian Ram Kangaroo apc in 1/100 scale! Detail is half decent, especially for the scale, and I'll be adding some details with things like brass rod, etc.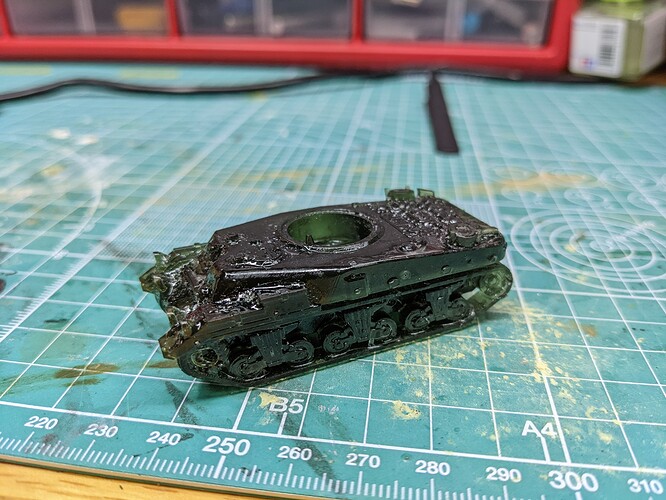 Sorry that it's hard to make out - the black resin I'm using sucks all the light up. I plan on getting some plant based grey resin soon though, so hopefully I'll be able to show off the prints better! Before painting each print, I'm going to airbrush Mr. Surfacer 500 on it.
I plan on printing even more than building, primarily because university is taking up the majority of my time and I can let this run in the background while I work. 1/100 scale has some interesting opportunities now, especially for little dioramas! I'm going to post updates on printing to this thread, so thanks in advance to anybody who takes a look!
Cheers,
Dennis