Airborne all the way brother.
J
Really enjoying seeing these two come to life. The canteen webbing is perhaps the trickiest bit of 37 Pattern to paint never mind scratch-building the whole thing!! Its looking good already though with the shape and proportions looking good. That Bren looks like a great quality item too- which kit is that from?
Thanks for the kind remarks Karl as always!
Yes,the canteen straps are the most complicated water bottle holder in any military I have modeled that's for sure. But I now have a long history of working with lead foil strips so that helped.
I think the Bren was the Tamiya version. I have to go back and check,sorry. I have a whole box of just weapons and kit for Commonwealth so sometimes I get them mixed up.
J
Jeff is completed after the addition of a water bottle stopper. Mutt has had a spare Bren barrel pouch made to add some interest to him before I finish painting him.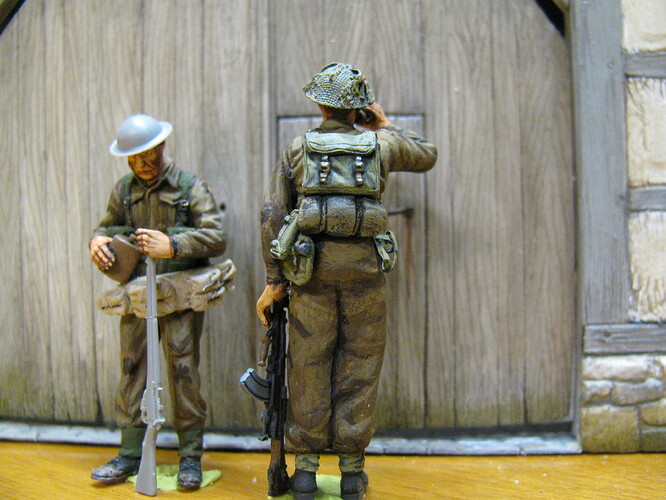 They turned out great, even they arrant ready yet.
Just love the empty water bottle holder, great detail
Thanks man! Nice comments!
J
Jerry, I see now that you're clearly a "Master of '37 pat webbing" - there should be a degree awarded in that somewhere along the line(!)
Outstanding - as always.
The detail feels very real when looking at it.
Very well done
Yes, well, I would clearly have to mention your involvement in the launch of my education into all things Commonwealth.
Thanks for the nice comments brother!
J
Thanks Chris! Kind words indeed,
J
"Fergus" and "Tiny" take a well deserved break after being relieved by troops from the reserve brigade in St Manvieu. June'44.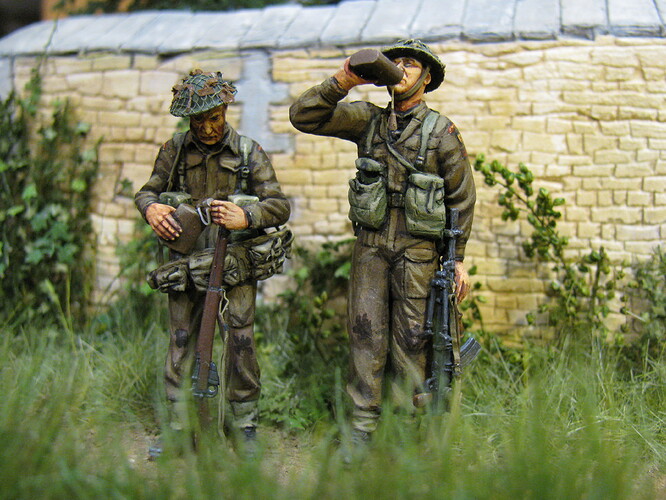 Very cool JR , very cool !!
Lovely stuff Jerry- you've captured the nice casual poses well and I think you have done a stellar job with the painting. The tones perfectly capture the BD and web gear.
Glad I shut up until you showed the latest photos (I wasn't too keen on Tiny's rear view before), they both look great, & again excellent photography bravo