I'm stuck.
My current diorama project has gone Out of Control I'd appreciate your thoughts.
It all started with my plan to build an Sd.Kfz 234/4 – a vehicle with a visible interior, and something other than a Panther (recall, I'm an addict)
Having enjoyed making a railroad tunnel 'portal' for a previous diorama, I decided to place the armored car in front of an abandoned and overgrown section of railroad.
I always spend a lot of time, contemplating the 'staging' of my dioramas, but this time I fear I failed.
Here's what it looks like at the moment. And I don't think it works.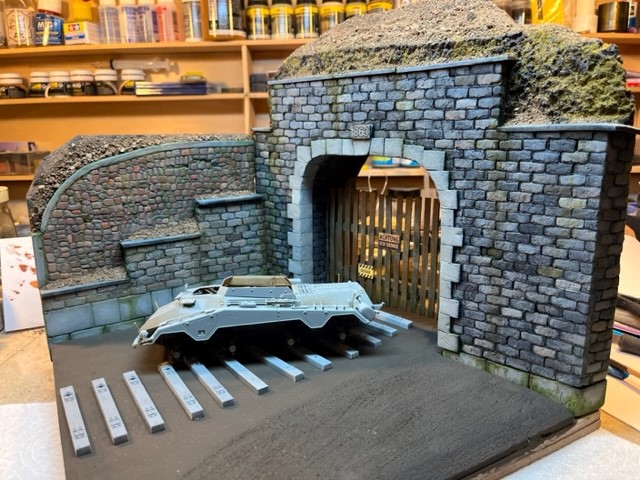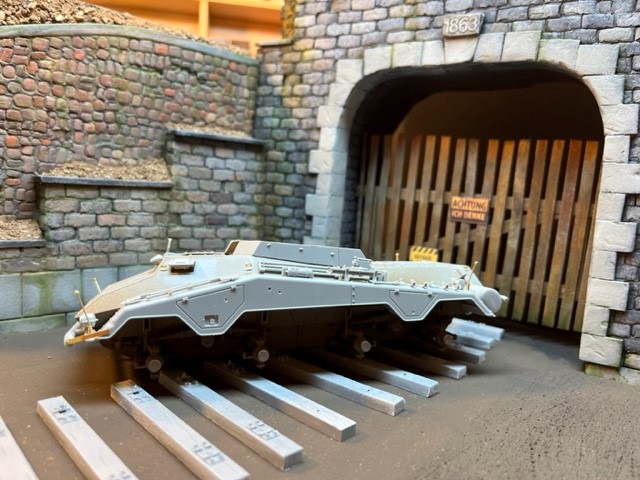 First of all, it's too big. It overpowers the vehicle; the armored car seems small in comparison to the background.
Secondly, it's unclear which of the two open sides should be the proper viewpoint. I intended the tunnel entrance, the portal, to be off to the side, with the primary view looking at the armored car in profile against the retaining wall.
But that left too much open space in the foreground, and relegated the good-looking (IMHO) portal almost invisible off to the side.
If I reorient the 'front' so the portal becomes the primary background, again there's just too much empty space in the foreground. The base is just too big!
Note: I have a lot more vegetation to add to the walls and space above them…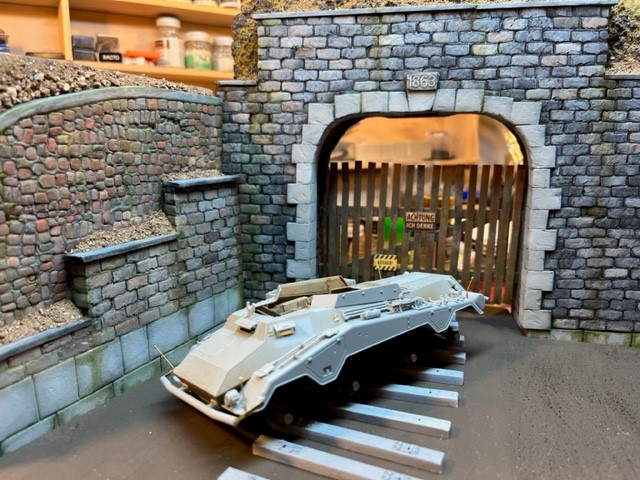 Perhaps I should shelve the 234, and build something huge, like a King Tiger for this base…
Or, I could add another vehicle to keep the armored car company. (a supply truck, or a Puma?)
I could also cut down the base, make it narrower, but then I'd have to hack back the structures I've built – and I like them too much for that.
Help!
Thanks, Ralph