Looking good. How's about a synopsis ?
Base kit was a Dragon III H with Et models fenders,with aber barrel which i thought was a nice upgrade for stock barrel.Master club tracks were installed which i think I'll never use another brand again they are just that nice!I also used aber antenna set along with lion roar water and fuel tanks.And for the first time I tried MJ miniatures clasp set for panzers.I still have alot of other details to add.Plans are for a Barbarossa diorama.Figures just arrived today.
Nice build, has character already even without paint! Looks excellent so far.
Very nice looking build. Metalhead85 is right…"has character already even without paint! "
Interested in what paint scheme you've chosen to depict.
Cheers,
C.
Panzer grey.Nothing crazy.But it will not be boring!It will be a well worn tank.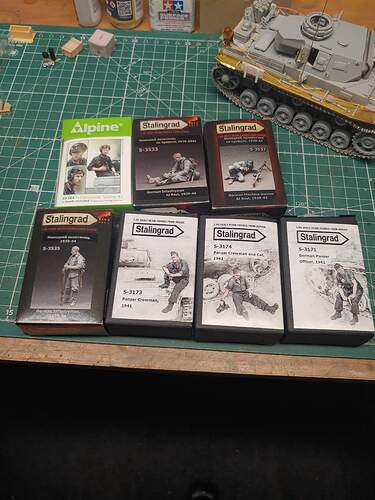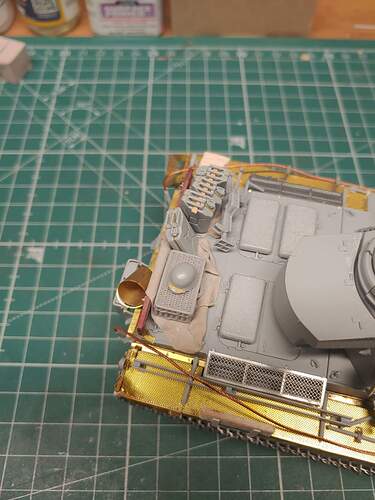 My figures have been delivered and I managed to get some time to work on my stowage and make some tarps today.Not that much of an update but the weekend is coming fast.
I have the Stalingrad # 3533 figure also. It's a very nicely cast figure.
Looking forward to your finished (diorama?) It's all looking good so far.
Cheers,
C.
I've only opened up 3173 and it was really nice.My plan is a Barbarossa farm house scene.
Can't wait to see the rest, again great job.
Rich
Great work so far, really like the damaged fenders and stowage. Looking forward to seeing the paint job
Terrific build going here! Anxious to see how it comes together…
really serious photo etch work. I have that same kit somewhere, and never gave P.E. a serious thought. Now I will
gary
Sorry for no updates!!!I have been working on this a little at a time,but a updated photo will be coming soon.

So this is where it stands as of now.Let me know what you guys think so far.
The radio operator side front fender looks excellent! Especially the dirty rusty underside. Likewise, the spare tracks mounted on the nose look great. The weather effects on the tow pinnacles are very sweet.
Looks good. Like the wood on the back and the mashed fenders. Can I make a suggestion… regarding the helmet sitting on the back in the earlier pics? You will probably contradict me by producing a photo showing just that… but I always think small stowage items should look like they are fixed to the tank by some means, even if just wedged in place, instead of possibly bobbling around on the deck loose. I've seen some great models where people have things like stick grenades rolling around, which really doesn't seem right.