Posted just today on my Facebook Profile:
---
"Playing" with trains (plus my Father's guidance) gave me the basics for all the Engineering knowledge I possess today. (starting circa 1954-55) Then my modeling of those trains put me on a graphic arts and photography career path that has spanned 60+ years while buying a house, raising a family and traveling ALL over America, plus one trip to Europe as a Trade Show Exhibits Designer and Event Coordinator for a Fortune 500 Company.
(You would be surprised how much scale modeling (structures) and exhibit design have in common!)
---
I have considered commissioning a dark, wicked, evil looking T-shirt graphic that states "I don't PLAY with trains!" Perhaps adding "I LEARN from them!"
My 'playing" with trains (and scale models in general) was a vocational course of the highest order; teaching me mechanical & world history, engineering, art, design, machining, woodworking and spacial exposition. Further, it has literally paid for my entire life and the lives of my family.
Zero % Brag, 100% Fact!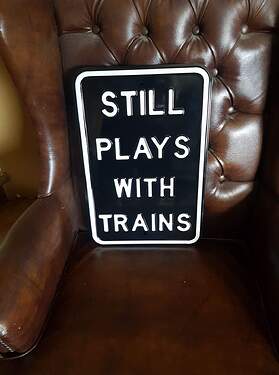 Plus as Kirk said
"it's been fun!"
Photo credit: Carey Samuels - "Tin Sign for the Man Cave"
I would strongly suggest that you NEVER hesitate to encourage your young ones to play with blocks, model trains, lego, erector sets, etc.